Welcome to the MarginEdge family!
With MarginEdge, our goal is to help you maximize profitability while minimizing manual data entry time.
So, how do we do this? We receive your invoices and process them, and pull in your sales data daily. Then with the data collected, we help track purchasing; transfer payables into accounting; update inventory and recipe prices; and give you real-time budgets and cost analysis.
Below is a birds-eye view of the MarginEdge platform.
We're going to zoom through these, but we've included links to more articles for you to dig deeper when desired!
When any user logs into MarginEdge they land on this Home dashboard. Sales numbers, budgets, a purchasing wheel and price alerts are all on display. Every single user in [me] has access to the homepage.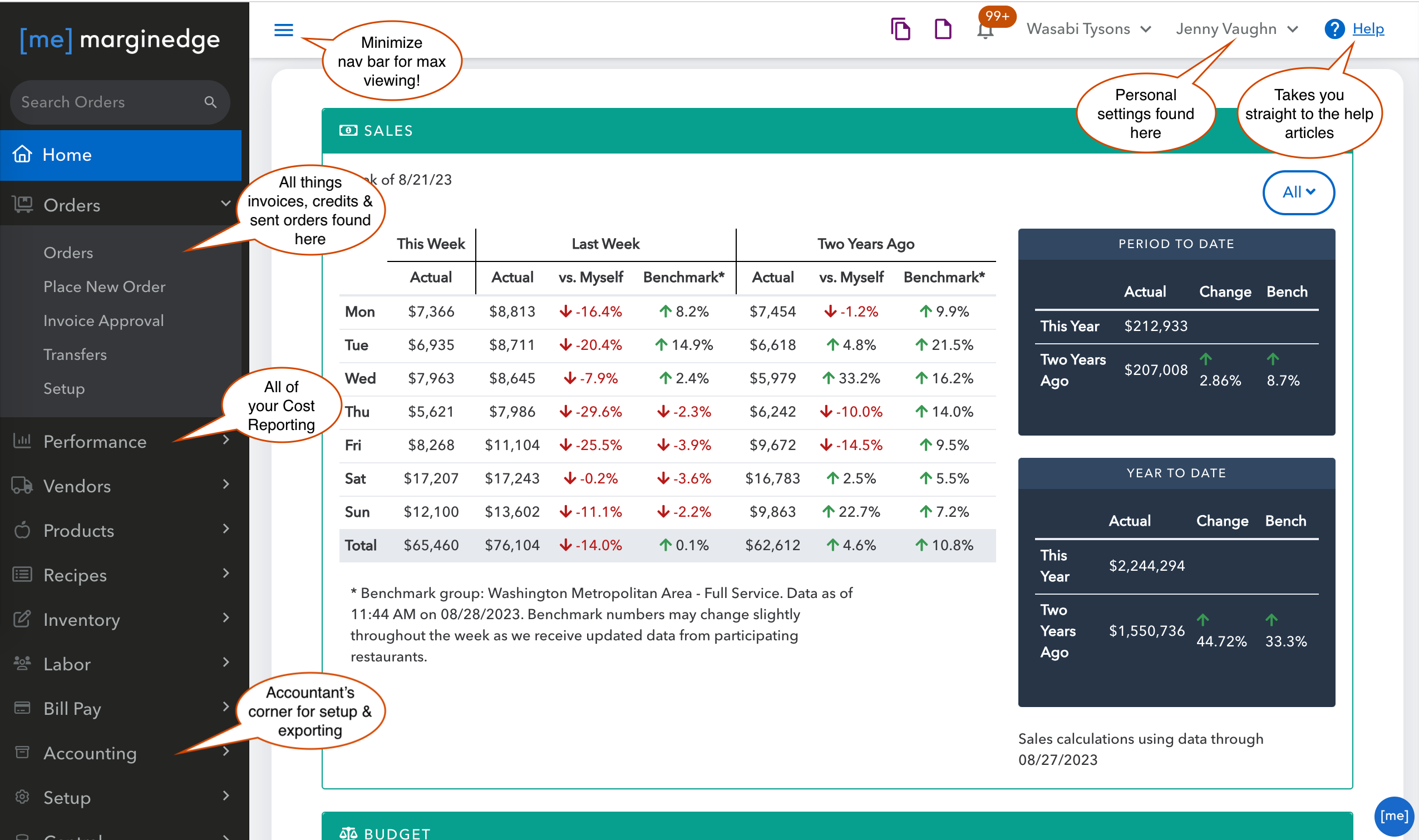 Note- This is the MarginEdge Admin view; depending on your user settings, you may see fewer things in your navigation bar. See all user permissions here!

In the order screen, you are able to see all of your invoices, place orders, upload invoices, and approve invoices. Here's an overview of what we will (and will not) process for you!


The performance menu is where all of your reporting can be found (8 different ones).
Budgets- See every invoice and inventory adjustment and how it's affected your budget, as a percentage or declining, over any date range.
Category Report- All invoices within a selectable date range and the category distribution and totals on those invoices.
Controllable P&L- Shows the summary of the revenues, costs, and expenses incurred during a specified period.
Food Usage Report- Allows you to look at any date range between two inventories and see down to a product level how purchases and inventory adjustments for each product contributed to your cost of goods sold. (Exportable as a CSV for maximum power!)
Sales- Look at your 21 day moving sales average over time.
Price Alerts- Add pricing alerts for a specific item and track it as the items will show on the Home Screen every time you log in.
Price Movers- Price Movers offer the ability to track information on price changes of individual ingredients/items you buy (if you are paying too much for an item and if you could purchase the same item for less from another vendor).
Theoretical Usage- Shows your theoretical food cost (based on product mix data from your point of sale system) compared to your actual food cost (based on inventories and purchases). *Must have recipes and PMIX completed, plus at least two inventories.


In this section you can edit vendors, see orders by vendor, set up order guides, and view vendor item history.
Vendors- See a list of vendors, view invoices by vendor, and edit their settings. Additionally, you can setup a vendor's Order Guide here. For each vendor, you can lock payment accounts, adjust your EDI settings, plus set miscellaneous charges & category restrictions.
Vendor Items- See all of the vendor items gathered from invoices sent to MarginEdge and which product they are associated to.


In the products screen you can see a list of products already entered in the MarginEdge system as well as add and edit a product's category, unit of measure or vendor item association.
New Item Review - newly created items are here in one place for you to review, check they are categorized correctly and make changes as needed. *Don't miss this one!*


The recipes section provides access to a powerful recipe management system you can use for recipe organization, centralized staff instructions, dynamic recipe pricing, and even displaying them with scalable batches for use in your kitchen.
Menu Items- Build your completed entree and track the margin % on every plate.
Prepared Items- All of the batch recipes you make in your kitchen that are used in a final dish.
Bar Items- Recipes for any cocktails or drink bases used at the bar.
Menu Analysis - This feature shows you how each menu item contributes to the bottom line.
Recipe Viewer- Allows recipes to be viewed or printed from a mounted display unit for you and your team to easily reference.
Setup- Create a variety of recipe types and manage allergens.

In the inventory section, you can decide which products to inventory and how to count them; create, organize, and print multiple count sheets; and enter counts directly as you take inventory in the restaurant.
Inventory Summary- Displays your change in inventory value based on any selected starting and ending inventory date, offering category totals at the top. This is also where you go to post your inventory to accounting.
Inventories- Where you enter counts in MarginEdge.
Count Sheets- Shows the customized lists of products/recipes you will use when counting your inventory.
Products- This page provides a quick way to see which of your products have been flagged "yes, this product should be inventoried" but are not yet on a count sheet.

MarginEdge can automatically collect labor data from your POS system so that you can start seeing wage data on your P&L and Budgets (see if your POS system is compatible). You can also add salaried employee data in MarginEdge for a more complete picture of your labor costs.
Labor Summary - displays labor costs broken out by Category, Employee, or Job title.
Shifts - displays punch data from the POS.
Employees - displays the full list of employees from your POS. You can also add salaried employees here.
Setup - where you can manage your pay periods and map job titles to labor categories.


With ME Bill Pay, you can pay your bills directly from within MarginEdge, putting an end to the time and cost of writing checks, stuffing envelopes, and buying stamps!
Invoices - View and schedule a payment of any invoice closed to AP. Payment details are synced to your accounting system, marking the invoices as paid.
Payments - View the payments that have been scheduled or sent, and images of the associated invoices.
Setup - Choose the bank account you would like to pay with and enter your company information as you would like it to appear on your checks. You can also choose which vendors you would like to pay with Bill Pay and check the remittance address we have on file for each.

Export- See the status for processed invoices and daily sales regarding whether they have been exported to your accounting system.
Reconciliation- Address any items that we need your help processing in connection to your EDI invoices.
Sales Entries- View and export all of your sales entries by period, and provide any manual entries.
Inventory Entries- View and export all of your inventory entries by period.
Categories- Configure how your purchases are categorized, appear in reporting, and how categories assigned in MarginEdge are mapped to your accounting system, including inventory posting categories.
Sales Mapping- Here you can map your sales to your Accounting System Account and you can also select which lines to include or exclude, and group sales entries.
Vendor Mapping- Map all of your ME vendors to vendors in your accounting system.
PMIX Mapping- PMIX Mapping is the process of associating your (POS) Point of Sale buttons with products or recipes in MarginEdge.
Payment Accounts- MarginEdge uses a payment account to indicate how an invoice is paid (by check, credit card, petty cash, etc) and whether payment information is sent to your accounting system.
Close Books- Set a Close Books date to align with your accounting periods so that you can ensure that no more invoices from prior periods will be sent from ME.
Budget Setup- Quick and easy to set up budgets, as percentage or declining, to track what you are spending in any given category.

Subscription Details- Here you can set up how you would like to pay for your MarginEdge subscription.
Users- You can view/add/remove users in MarginEdge for your unit.
Integrations- Where your accounting system and point of sales are set up. You can also export product lists and sales entries.
Point of Sale- Integrate your point of sale system with the MarginEdge system.
Notifications- Select which users and/or roles receive notification emails.