With MarginEdge, you have a full recipe management system you can use to enter and price recipes, keep them organized and even print them with photos for use in your kitchen. Entering Recipes is also a critical step toward starting to track theoretical usage of products. (Theoretical tracking requires recipes as well as "PMIX mapping" - the process of connecting the things you sell as shown in your POS to the things you use as shown in your recipes. For more detail, visit Getting Started with Theoretical Usage Reporting or How do I setup PMIX mapping?)
Recipe Categories
There are three categories of Recipes in ME, each with its own menu option as shown below: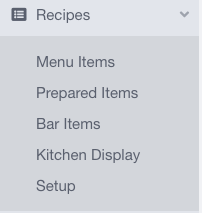 Menu Items: these are the actual products or plates shown on your menu, whether appetizers, salads, entrees, desserts, etc. These are sometimes called plating procedures, as they are often a description of how to assemble a final plate and will typically include the combination of other products and recipes. Each will show a plate cost, and for each one you can enter a menu price, so you can see the margin % on every plate. Menu items are generally single servings of items as they would appear on your menu.
Prep Items: This recipe type is the only type of recipe that can be used in other recipes, usually, when you start building your recipes you'll start with your prep items. These could be anything from dressings, sauces, bases, fabricated portions of meats or seafood, cocktail mixers, and batch recipes. Basically, a recipe for any recipe you may want to include in another recipe or for a portion larger than the one you serve on your menu.
Bar Items: these are recipes for any cocktails or drink bases used at the bar. Essentially, Bar Items and Menu Items work the same way in the software, but they're different places to hold your recipes to help keep your menus easy to use.
Recipe Types
Before you can enter any recipes, you will need to first create "Recipe Types". You'll find this option on the Recipes > Setup page as shown below: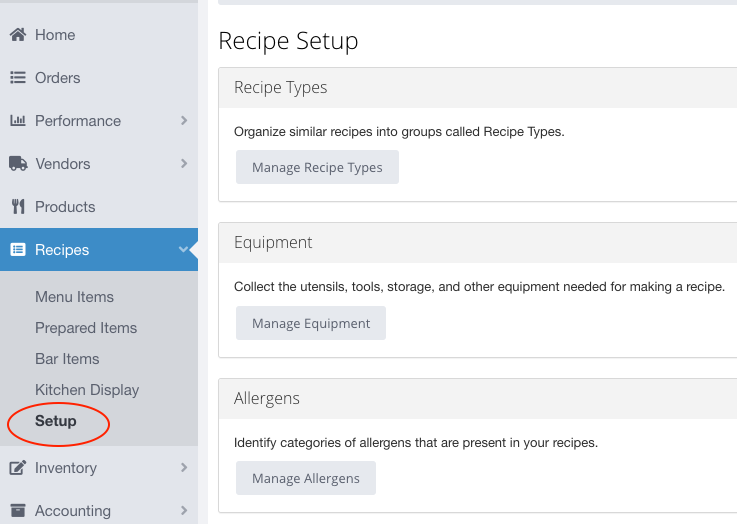 Every recipe you create, whether Menu, Prepared or Bar Items, has to be associated with a Recipe Type. Recipe Types provide a way of organizing your recipes. Here are some examples of Recipe Types:
| | |
| --- | --- |
| Recipe Category | Examples of possible Recipe Types (they will be different for everyone) |
| Menu Items | Appetizers, Salads, Soups, Sandwiches, Entrees, Late Night Menu, Kids Menu |
| Prepared Items | Batch Recipes, Dressings, Line Recipes, Bases, Seasonings, Dips |
| Bar Items | Signature Cocktails, Margarita Mixes, Happy Hour Cocktails |
Equipment
On the Setup page, you can add equipment that will be used in your recipes. For any piece of equipment you add, you can provide a name, a description, and a photo. As you add new equipment, it is available to select during the creation of any recipe.
As you start to add equipment to recipes, you can always return to the Recipes > Setup area to see what recipes are associated with a piece of equipment. Select "Manage Equipment", and select any piece of equipment to view the list of all recipes that use it.
Allergens
On the Setup page, you can add allergens to the system. Once an allergen has been added, you can associate the allergen with a product. To do this, use the Products page to find the product, then click the "Edit Product" button. On the Edit Product page, a "Manage Allergens" button on the bottom right of the page allows you to associate one or more allergens to that product.
As you start to associate allergens with products, you can always return to the Recipes > Setup area to see what products are associated with what allergens and what recipes contain which allergens. Select "Manage Allergens", and select any one, and you will be able to see a list of all recipes that contain it as well as all products that contain that allergen.