Don't leave profits to guesswork! MarginEdge's Menu Analysis feature shows you how each menu item contributes to the bottom line.
You can see how your entire menu or individual categories are performing based on weighted averages of the product mix. The report provides a comprehensive breakdown including average cost, number sold, modifier cost, total cost, total revenue, and your theoretical cost percentage.
FIRST: To get up and running, you first need to take care of several items:
Send us your invoices so your product prices are up to date
Set up your menu items in Recipes
PMIX map these recipes to your POS
Menu Analysis Reporting
To access the Menu Analysis report, go to Recipes > Menu Analysis
In the Menu Analysis screen, you can set the time period you want to view using the adjuster on the upper left. All prices and sales will be based on the date range you select. Please note, the report only includes food items - not liquor, wine or beer.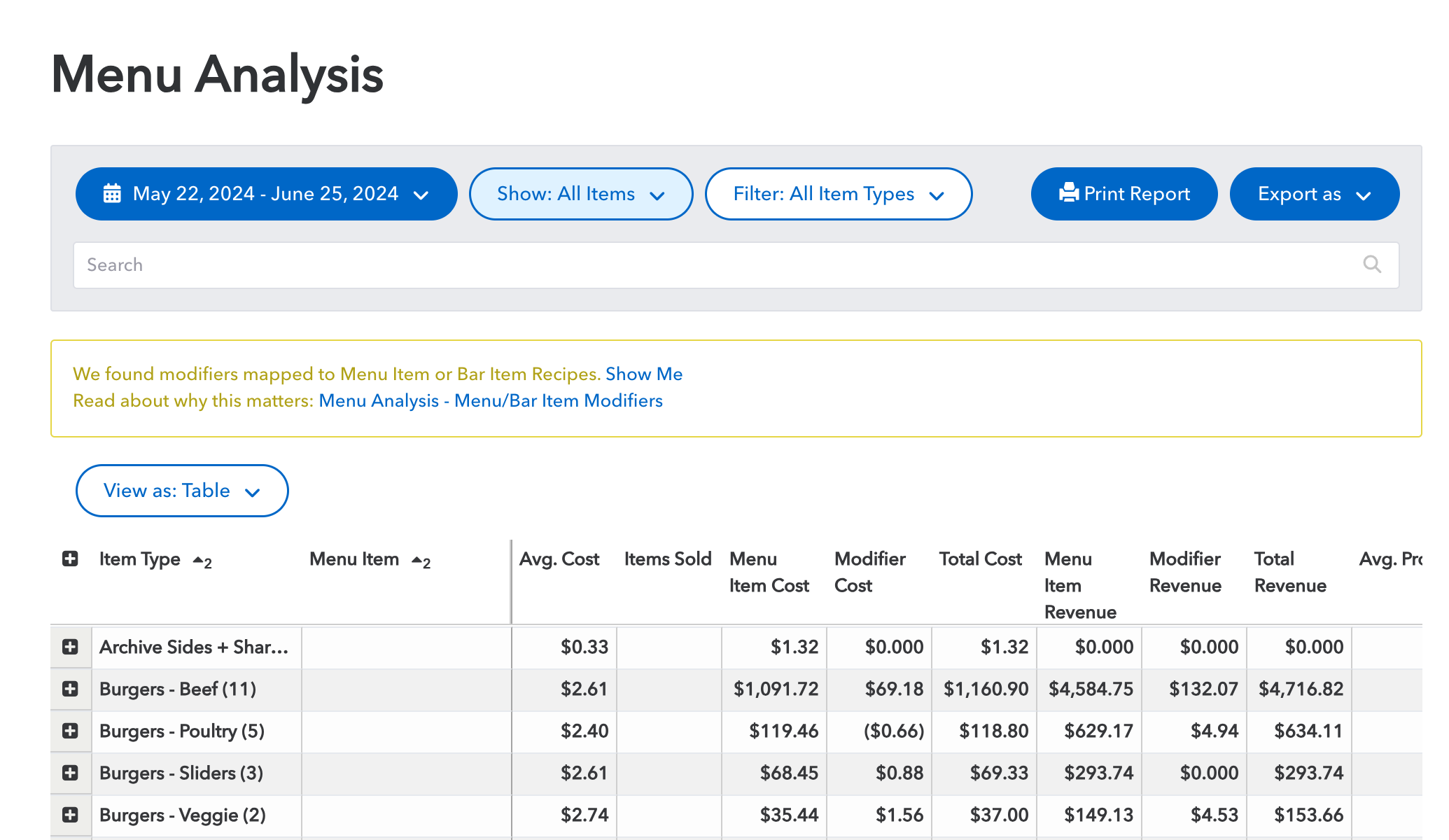 The Average Cost column tells you the average cost of the base recipe, excluding any modifiers. Recipe costs are determined proportionally, combining the last purchased cost of each ingredient. Then on the menu analysis report, we average together the ingredient cost from each day within the defined date range.
More details:
Items Sold shows the total quantity of each menu item sold within the selected date range.
Modifier Cost shows the total amount of all the modifiers applied to that menu item. Mapping modifiers is optional if you do not map modifiers, they are will not be included in either cost or the revenue.
Total Revenue shows the total revenue (including modifiers applied to the item) within the selected date range.
Theoretical Cost % is calculated by dividing the total cost by the total revenue. Many clients find this helpful because it immediately identifies what food costs should be for each item.