Video Orientation
ORDERS
The orders screen houses all of your invoices. You can see the quick and dirty details here, and then click on any invoice to look at the uploaded image and all of the nitty gritty info as it works it way through our processing team. Our Invoice Approval feature allows you to review and edit invoices before closing them and sending them to accounting.
USER INTERFACE (As it appears with the Accountant user role)

Add Invoice - clicking this gives you two dropdown options:

Upload Invoice - For uploading an invoice directly from the browser.
Create Invoice - For creating a manual category-level invoice.

INCLUDE Filter - Filter which invoices you see based on the processing status of the invoice
INVOICE DATE Filter - Use the date picker to filter which invoices you see
VENDORS Filter - If you only want to see invoices from one vendor, select that here
Export - Use this to export the contents of this screen, with any applicable search filters, in CSV or PDF format
Search Bar - Here you can search all orders for text contained within any field as displayed on the Orders Page.
Column Headers
Upload Date – Indicates when an invoice was uploaded and by default is sorted from newest to oldest
Vendor – Shows the name of the vendor an invoice is payable to. This will be blank when an invoice is in Initial Review status.
Invoice Number -Shows the invoice number from your invoice. This will be blank when an invoice is in Initial Review status, or if the invoice just does not contain an invoice number. Generally, invoices with a "C" at the beginning or end will be credits.
Invoice Date -Shows the invoice date from your invoice. This will be blank when an invoice is in Initial Review status. If using the Closed Books feature, invoices that are processed after a closed book date will show their new and different posting date in red in this column.
Payment -Shows what "Payment Account" your invoice has been closed to. By default, all invoices will be closed to Accounts Payable but you can create alternate payment accounts for checking, petty cash, etc.
Status -Shows what stage of processing your invoice is in. Only invoices in closed status are included in reporting. Check out this article on Invoice FAQs for or more information on Invoice Statuses.
Total - This is the invoice total including any handwritten adjustments.
Note the additional pieces that appear to give you more information about [me] Bill Pay: an icon indicating if a vendor can be paid via an electronic payment, and a quick link to confirm payment.

VIEWING INVOICES
If you click on any invoice you will be able to see all of the details of that invoice including the invoice image, line items, coding, miscellaneous charges, etc.
On the top, you'll see an icon of each image you uploaded for the invoice. You can click into any of those images to see the full-size photo. For Digital Invoice (EDIs) you can click the invoice icon and it will bring you to a screen where you can see a link to download the CSV as well as any images of the invoice that may have been uploaded.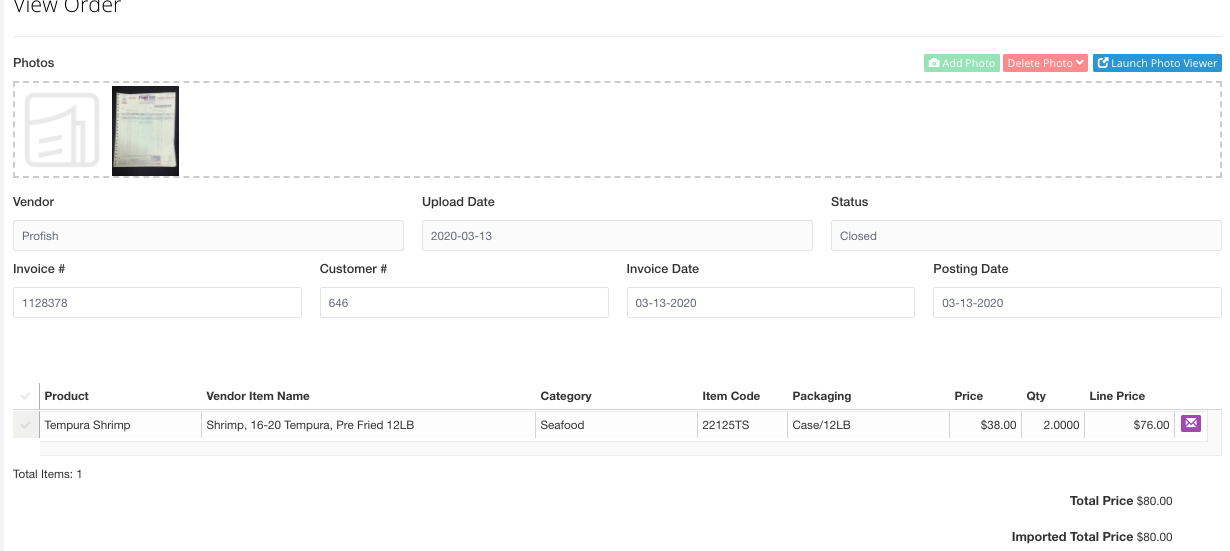 When viewing an order you will see all the information available on the Orders page as well as line item detail and how taxes, delivery charges, and other miscellaneous fees. You can change how these miscellaneous fees are distributed on an invoice by editing your Advanced Vendor Configuration Options on a per vendor basis. If you would like to see how your miscellaneous fees or credits have been distributed by category you can view this on the Category Report in your Performance Menu.
You can use the Invoice Approval feature If you have changes or adjustments that need to be made to the invoice. You can also contact help@marginedge.com. if you need any help making any changes.
ORDERS > PLACE NEW ORDER
You can place electronic orders to your vendors directly through the MarginEdge platform. Order Guides are automatically populated from the purchasing data from your invoices, but you'll still need to configure a few things before you can get started.
Check out these articles and videos on setting up order guides and configuring online ordering to get started. You can also set pars on your order guides, and even specify different pars for different days (article needed).
Once your order guides are set up you can place orders by pressing the "Place a New Order" button in the left hand navigation bar. Orders are sent via email to the address(es) that you specify and we will appear on your orders screen until the order is fulfilled by your vendor.
ORDERS > INVOICE APPROVAL
If you want tighter control over your invoice process, you can require that invoices be approved by a user with the Restaurant Admin or Accountant role being available to export to your accounting system. This can be set for all invoices, or according can be customized by to only require approval for selected categories with charges exceeding certain amounts.
ORDERS > TRANSFERS
This feature allows you to transfer Products between any number of restaurants in the same Company and Concept that share the same product database. This is the spot where you record an Internal Transfer. If you want to adjust your settings for this feature, go to Orders > Setup as seen below.
ORDERS > SETUP
Here you can adjust your Invoice Approval settings, setup Internal Transfers, edit any Recurring Invoices, and find your unique, personalized "meinvoices.com" email address.