What are Payment Accounts?
MarginEdge uses "payment accounts" to indicate how an invoice is paid and whether payment information is sent to your accounting system. The default payment account for invoices is "Accounts Payable" - these invoices will be sent over to accounting as a bill to be paid with the invoice total crediting your A/P account.
However, sometimes invoices are paid upon receipt, and payment information is uploaded to ME with the invoice. Examples include invoices paid by check, or ACH/EFT, or credit card. For each payment type you will use with invoices and receipts, you should have a corresponding "payment account" in MarginEdge. Even if used infrequently, it's best to set up any payment accounts that might be used.
Below is a quick video on setting up Payment Accounts.
How do you add payment accounts?
To view your payment accounts, or add/remove any, go to Accounting > Payment Accounts from the main menu.
If you started with us on January 25, 2021, or later, your payment accounts page will come by with payment accounts for Accounts Payable, Checking, Credit Card, and Petty Cash as shown below .
No 'Accounting System Account' is needed for Accounts Payable. MarginEdge will automatically associate this with the default A/P account in your accounting system, for the others; you are required to map them to your accounting system.
If you would like to edit, disable, or delete any of these payment accounts, you can do so on the Payment Accounts screen.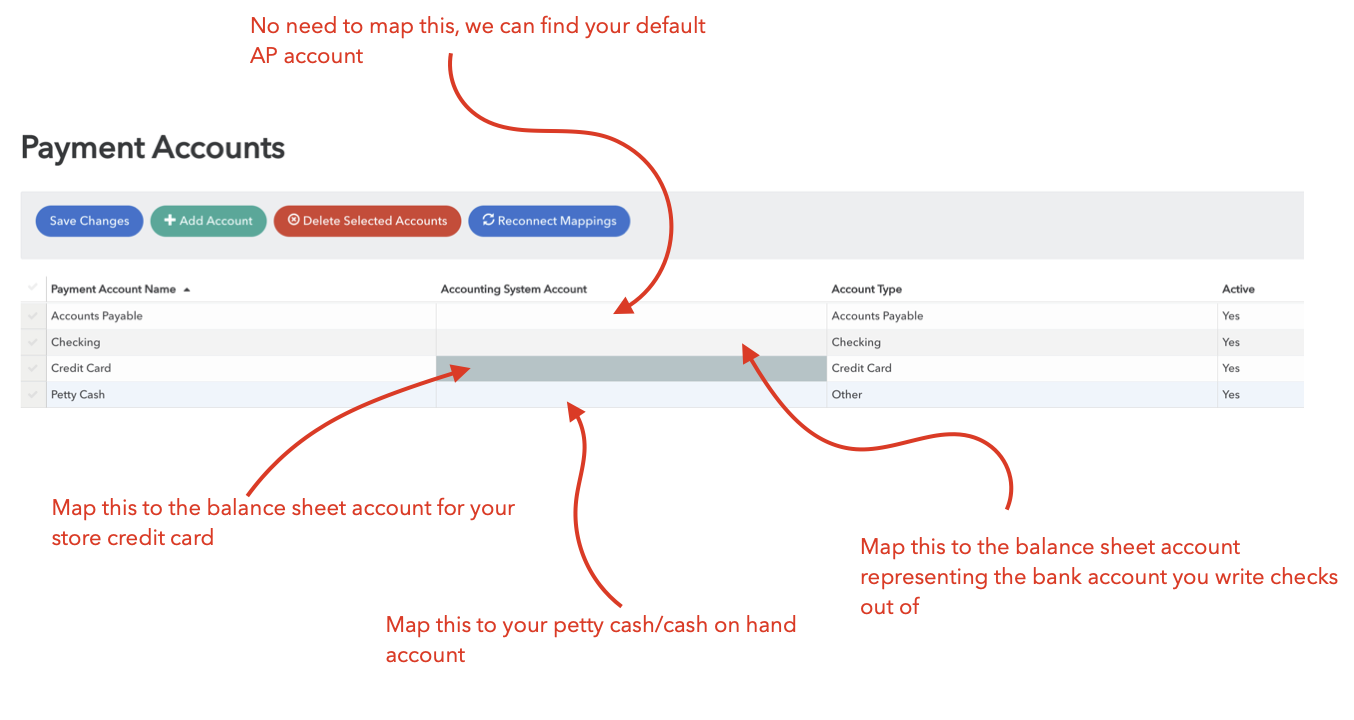 Payment Accounts Screen Breakdown
Payment Account Name
For any account other than Accounts Payable, you can create/edit the name. Common examples of this include:
Checking BankX ####
ACH/EFT
AMEX ####
CCARD ####
DEBIT CARD ####
Petty Cash
Paid Out
(where #### are the last digits of the account or the credit card.)
Accounting System Account
For most accounting systems, this is an account selected from a list of your g/l accounts. To select one, simply click in the field and then click again to view the dropdown list. For a few accounting systems for which MarginEdge cannot access the chart of accounts directly, this field will allow you to enter text and you will have to type in the g/l account number in this field.
Account Type
Account type sets how the data will be sent to your accounting system. There are three choices of account types in MarginEdge:
Accounts Payable - used typically just once as shown above. Payment accounts set to Accounts Payable will be sent as a Bill to an accounts payable account.
Checking -Invoices closed to payment accounts set as Account Type "checking" will be sent as a bill to your accounts payable along with a check payment marking the invoice as paid by the checking account mapped under the accounting system account. Checking is the account type recommend for Invoices paid with checks upon delivery
The check number used will either be the check number provided with the invoice or if no check number is given the check number randomly generated. If you are using invoice approval to edit your Payment Accounts yourself, you'll see an "Auto-Generate Check Number" option.

Other - For payment accounts set to this category type, no invoice is sent to the accounting system, only a journal entry. Common examples include purchases with petty cash (paid-outs) and internal transfers. (Click here for information about how to book petty cash transactions with MarginEdge.). Please note that the general journal entry exported to your accounting system will not be tied to a specific vendor, the vendor will simply be referenced in the memo on the Journal Entry. As such, if you export invoice to accounting using an"Other" Type payment account, you will not need to map that MarginEdge Vendor, and if you lock a Vendor to only export invoices to an "Other" type Payment Account, the Vendor Mapping page with display "Not Applicable" in the Accounting System Vendor column.
Credit Card (only available for QuickBooks and Sage Intacct) - Invoices closed to account type "Credit Card" will report a credit card charge to the mapped account (must be a Credit Card account in QuickBooks). If no vendor is mapped, the name of the vendor paid will show up as a memo on your credit card register. If the vendor is mapped, you will see the vendor listed as the payee on the credit card register and it will appear as an expense on your Vendor transaction list for the mapped vendor. For QuickBooks Online, an image will also be exported with the Credit Card Payment Account. For more details on what Credit Card type payment account exports will look like in the accounting system, click here. *Note: Credit Card payment types cannot be mapped to a bank account.
A note for Xero users
Xero accounting system does not allow manual journal entries to be posted to bank accounts. This means payment accounts set as account type "checking" or "other" cannot be mapped to a bank account in Xero. A clearing or balance sheet account must be set up and mapped for payment to be exported.
Looking for more details?
Setting Up Payment Accounts for Commissary and Internal Transfers
Ensuring your invoices are closed to the right payment accounts