Here are some common questions about invoices in ME:
How long does it take for an invoice to be processed?
Once you are fully up and running with MarginEdge an invoice will typically be processed within 1-2 business days. During your first 4 weeks of invoice processing, it takes about 7-10 business days for us to process. In this time we are doing extra work to map all of the items you purchase from your vendors to Products you can use on inventory and in recipes. Once that initial period is over you should have much faster processing times, often within 24 hours of uploading the invoice.
What do I do if a vendor sends a PDF or digital invoice in email?
Simply save it to your computer and email the PDF file to:
What do the different statuses mean during the processing on my invoices?
In the orders screen, you can view order statuses. The order status indicates what stage of processing your invoice is in. In the image below, the filter is set to show all orders.
Invoice Status Modes
Preprocessing – as soon as we receive your invoice, the invoice goes into the preprocessing stage. At this stage, you'll see no information about the invoices vendor, invoice number, etc...
Initial Review - Initial Review is the first step in invoice processing where all basic data (vendor, date, invoice number, invoice total) from the invoice is added to the system.
Reconciliation - Reconciliation is the second step in invoice processing where every single line item purchased by the client on an invoice is added to the system.

Final Review - The third step in invoice processing is Final Review. At this stage, all information entered during Initial Review and Reconciliation must be reviewed by a supervisor.
AM Review- Once all items have been entered from the invoices and various checks are confirmed, invoices are sent to the Account Managers (AM) team for the final approval. This is known as AM review.
Pending Approval- If you have the approve invoices feature turned on, you will see invoices in this status. These invoices are waiting for a user with restaurant accountant permissions to approve. To learn more about the Invoice Approval Feature, check out this article on the topic
Closed- The invoice data is all entered, confirmed, and can be used in reporting and be sent to your accounting system. Only invoices in Closed status will be included in reporting, available to pay with MarginEdge Bill Pay or able to be exported to your accounting system.
Status' Related to Electonic Invoices
If a vendor has had electronic invoice processing (EDI) turned on, you may also see these status messages. For more information on Reconciling EDI invoices and credits check out this article
Image Pending- If we have received an electronic invoice from a vendor but not an Image, (your vendor sends MarginEdge electronic versions of your invoices) it will say Image pending.
EDI Pending- If we have received the Image but not the EDI (invoice image is uploaded by the manager into MarginEdge), it will say EDI pending.
Status' Related to Outbound Orders
Open- Order placed with a vendor through the MarginEdge platform is open and not completed.
Saved- Order placed with a vendor through the MarginEdge platform is saved but not yet sent.
Sent- Order placed with a vendor through the MarginEdge platform has been sent to the vendor.
What if the invoice doesn't match my order?
No problem. This is very common! Many restaurants have their own guidelines on this, but here are our preferences:
1. Cross out the "Qty Shipped" amount and next to it write the correct quantity received, and make a clear handwritten note on the invoice next to that line item to explain the issue (for example, write "return", or "short", or "reject", etc.) You can circle the item for further emphasis, but it isn't required.
Example: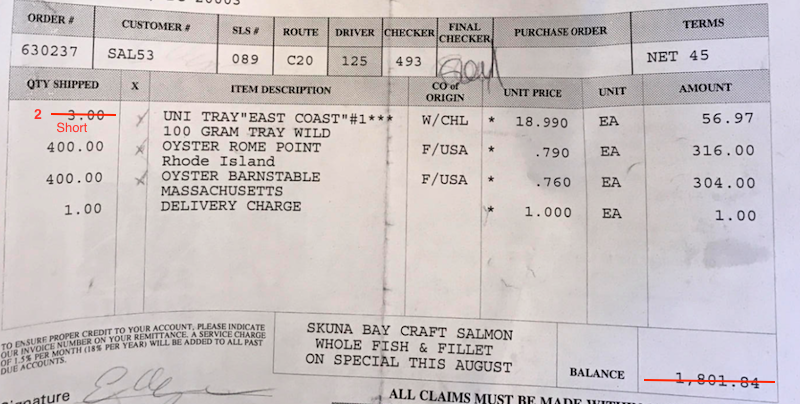 2. We also suggest putting a line through the final total as an additional indicator to us that something has been changed.
That's it. We'll take care of the heavy lifting (you know, the math!) to make sure the total is right.
What if the order is paid at delivery with a check or ACH?
Most invoices will be sent to your accounting system as payables (A/P), and vendors will be paid by your accounting team periodically. However, some vendors will be paid at the time of delivery with a paper check, and some may use ACH and auto-draft the bill amount. We have you covered!
For checks, take a picture of the check with the invoice. Also, clearly write the check number on the invoice. In the case of ACH, just write "ACH" on the invoice.
With most accounting systems, ME sends the check number or notification of ACH to the accounting system along with invoice details.