For us to process your invoices in MarginEdge, you will need to upload the invoice directly to your unit and it must have, at a minimum, the following information:
REQUIRED
Vendor Name: Name of the vendor/seller/supplier of the goods and services purchased.
Line Items: Every single item purchased (or credited) on the invoice is called a "Line Item". We require itemized details including the name, packaging, quantity, and price of each and every item purchased on the invoice.
Invoice Total: This is the sum of what you have purchased (sum of line items, taxes if applicable, and shipping if any). No $0 invoices allowed.
What happens if I upload an invoice that is missing these things, or they are illegible or incomplete?
1) If we can see these elements are present but cannot read something, are missing a page, or have a cropped or blurry image with information cut off, we will not be able to process it. We will make two attempts to contact you and request a new image; if we get no response, we will delete the invoice.
2) If any of these elements are missing entirely, the document will be deleted and you will be notified via email.
To set who receives these emails, you can adjust your Notification Settings.
OPTIONAL, BUT HIGHLY RECOMMENDED
Invoice Number: An invoice number is a unique number that is generated by the vendor for the purchase. We will not automatically create one if none is provided.
Customer Number: Your customer number is the unique number that identifies you with your vendor. This is typically assigned and provided to you at the time of signing up with the vendor. The customer number can also be called- Account Number/Id, Client Number/Id, Customer Id, Customer Code, Site Number/Id.
Invoice Date: The invoice date is the date on which an invoice for goods/services is issued and it is usually the same day the goods/services are supplied.
Without this, we'll use the ship date or delivery date, or in absence of all these dates, we'll use the upload date as the invoice date.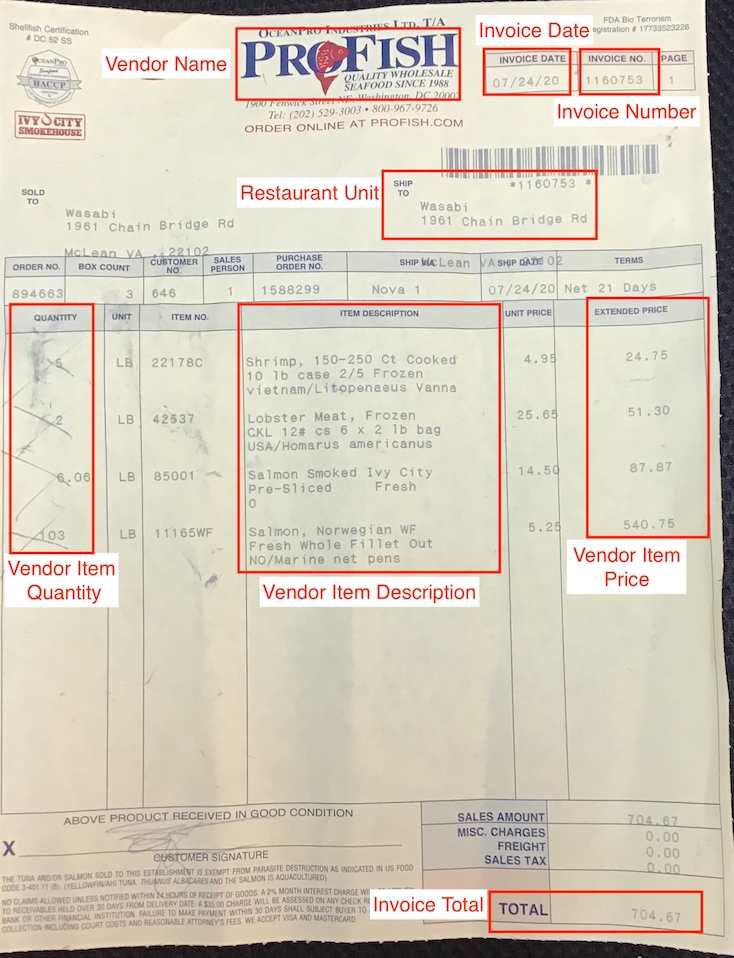 GOOD TO HAVE
Payment Account: Which account was used to pay this invoice? If no payment type is provided, we will default to A/P or to whatever payment account is set for that particular vendor.
The MarginEdge team will take all efforts to process uploaded documents even if they are not final invoices as long as they have sufficent information for us to record and code. We would note that uploading multiple records of a single transaction (for example a purchase order and a final invoice for the same order) carries with it the risk of creating duplicates as these documents may be sufficiently dissimilar to not be flagged as redundant.
WHAT WE CAN PROCESS:
1) Food invoices: All your food purchases can be classified as food invoices.
2) Liquor invoices: This consists of your alcohol purchases- beer, wine and liquor.
3) Credit memo/note: A credit memo/note is issued by the vendor for returned goods.
4) Utility Bills: These pay for electricity, water, gas, internet and telephone each month. We process the current charges as the invoice total and not what the utility bill total shows.
5) Insurance Bills: For invoice total we prefer to use Minimum due or Current premium.
6) Taxes, fees and permits: This category includes government taxes, fines, license fees, other fees and permits.
7) Paid outs/petty cash: These are miscellaneous expenses/reimbursement of staff, paid out of the cash register.
8) Internal Transfers: An internal transfer is the transfer of products or vendor items from one restaurant unit to another restaurant unit in the same group.
Click here to see examples of what we can process.
WHAT WE CANNOT PROCESS:
The following types of documents generally do not contain the required data outlined above. When any of these items are submitted and do not meet the minimum requirements for processing, our team will automatically delete them and an email notification will be sent.
1) Statements: This includes statements from vendors, credit card statements and tax statements. Statements generally lack line item information about what was purchased.
2) Packaging slips and delivery tickets/slips/notes: These generally contain only packaging details with no information on price.
3) Request for pickup or pickup slips: We don't process Requests for Pickup or Pickup slips. These generally contain only packaging details with no information on price.
4) Purchase Orders, Order Confirmations, Shipping order, Bills of Landing, Consignment Receipt or Courier Receipts: We don't process Shipping order, bill of landing, consignment receipt, or courier receipts, they do not contain information on price and/or can create duplicate records if an actual invoice is uploaded.
5) Invoices with zero printed total: When an invoice has a zero-amount invoice total we don't process it.
6) Duplicate invoices with exactly the same details: We will not process duplicate invoices received for a second time without any new information.
7) Check Written to vendors: These are not invoices, there are no line item details, no way to prevent duplicates. If a check is uploaded with an invoice, we can use the check to adjust payment details on the bill.
8) Work Ticket or Service Ticket: we cannot process such items as there are no line items and price information.
9) Labor/Payroll report: This includes your payroll cost for a billing cycle, and we can't process it as there are no line items or price details.
11) Transaction Receipt: This includes transactions made on the credit/debit card and we can't process it as there are no line items or price details.
12) Transit receipt: This includes purchases of goods and items that are in transit, you have paid for it but have not physically received it.
13) Invoices with dates outside of your approved date range. Unless you have paid for back-processing, MarginEdge will only process 7 days of historical invoices. This date range begins from 7 days back from the day you enter your subscription payment info into MarginEdge.
14) Links and ZIP Files. We cannot process invoices if they are sent to us as a link (i.e. to a dropbox account) or compressed into a Zip file. See below for details on the file formats we can read.
Click here to see examples of what we CANNOT process.
INVOICE FILE FORMATS
Regarding file types, if you do not want to take pictures of your invoices with the MarginEdge app, you can send us your invoices in JPEG, PNG, CSV and PDF format.
Please send a separate document per invoice.
Please DO NOT send links to stored documents or zip files.
For file size limits, please see this article.