Mapping Your Inventory Accounts
Before you can post an inventory adjustment to accounting you will need to map your inventory accounts, so we know which accounts to post inventory adjustments to in your accounting system.
To do this, go to Accounting > Categories. On this screen, you will see your categories in MarginEdge and how they've been mapped to your chart of accounts. To the right of the "Accounting System Account" line you will see a column titled "Inventory accounts'. If you double click this field a drop-down menu will appear, allowing you to select the inventory account that corresponds to the accounting system account where your purchases are reported.

If you triple-click the field in this column you will see a list of your chart of accounts for you to select from.
Posting Inventory Adjustments to Accounting
To post an Inventory Adjustment to accounting, go Inventory > Inventory Summary and select the Starting Inventory and Ending Inventory you would like to post an adjustment for.
Because we are not posting inventories but inventory adjustments to your accounting system, you will need to have at least 2 inventories in MarginEdge to post an adjustment to your accounting system

Please note that only adjustments between end-of-period inventories can be posted to accounting.
Because we use the ending inventory of the previous period as the starting inventory value of the current period the dates of the starting inventory as seen on this screen will be one day after the date that/those inventory dates were counted. (so in the example pictured below, this restaurant took their inventory on the last day of their previous period [8/9] but it appears with the next day[8/10] as it is acting for these purposes as the starting inventory value of their next period).
Once you have selected a starting inventory and ending inventory, you can post the adjustment by pressing the "Post to Accounting" button.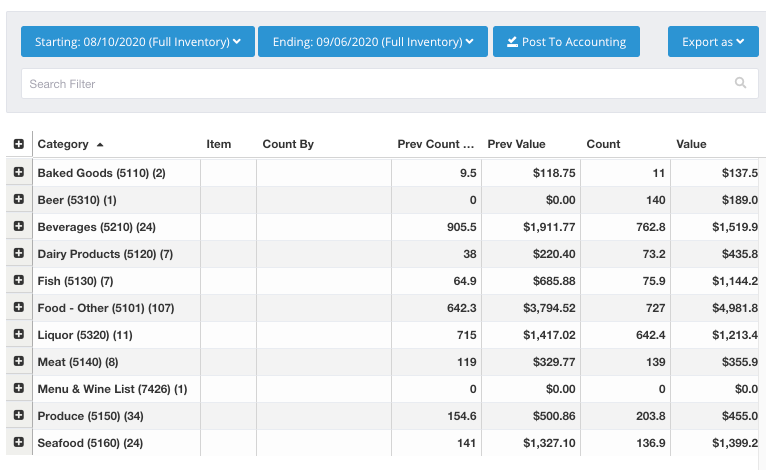 Once "posted", Inventory Adjustments in MarginEdge are exported to the accounting system like invoices or sales entries, this can be set to export manually, or automatically by going to the Setup > Integrations page and clicking on your accounting system highlighted in green. Once here, you can set choose your desired settings.