Once you have done the basic Bill Pay Setup, and setup some or all of your vendors, you're ready to pay bills!
To pay bills, simply follow these steps:
1. Pick a date range:
When you go to the Bill Pay screen, the screen will show a list of all unpaid bills for all vendors for the timeframe shown on the date selector. The date selector defaults to the current period, but you can select any timeframe you'd like. Be sure to pick a wide enough time period to ensure you can see all unpaid bills.
2. Pick a vendor (optional):
You can select invoices from multiple vendors. Bill Pay will cut separate checks for each vendor and show you the total for each check before you give a final 'OK' to make the payment. However, if you want to review just the invoices for a particular vendor, select that vendor from the drop-down selector.
3. Select the bills to pay:
You can select as many bills, for as many vendors, as you'd like. Click the check mark on the left side of any row for those invoices you want to pay. See example below:

4. Select the checking account, and pay:
Once you've selected the bills to pay, click the "Pay from" button at the bottom. If you have more than one bank account setup, you can select which to pay from. In most cases, there will be just one checking account available to select. See example below: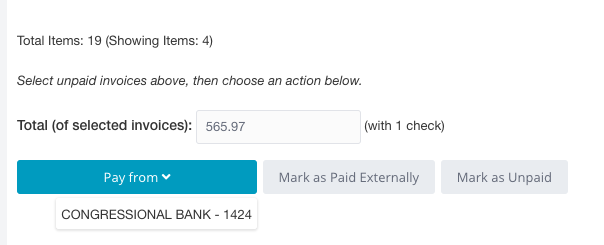 Once you select an account, you can review the details of the check, add or edit the description if needed, and finally hit click "Save" to submit.
Statuses
Once a payment is 'saved', the status of the bills that were paid changes to "Check Pending".
Once the check has been processed by MarginEdge, the status will change to "Paid:Check."
Other things you can do from the Bill Pay screen:
1. Mark bills as having been paid outside of MarginEdge.
For bills you've paid outside ME, select the bill(s), then use the "Mark as Paid Externally" button at bottom of the screen. These bills will then no longer be 'unpaid' and won't appear by default on Bill Pay screen moving forward.
2. Mark bills as 'unpaid'.
If for any reason you mark a bill as "Paid Externally" but later decide you want to pay it through Bill pay, then select the bill, then click the "Mark as Unpaid" button.
3. View Payments that are 'pending' or have been sent.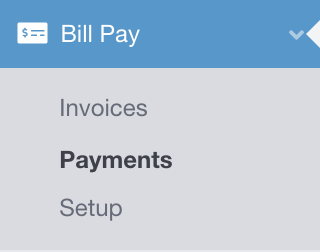 To see your payments, go to Bill Pay > Payments. On the Payments screen, you will see any bills for the given date range either awaiting processing or that have been paid. If you want to see the actual check as printed, select the bill and click the "View Payments" button. Use the date selector to change the range of payment dates you want to review.