You can start paying your bills as early as today! We just need two important bits of information that will take you just 5 minutes to input.
Bank account info (click here for the 3–minute steps)
Vendor's info (you're here! 2–minute steps outlined below)
To complete step #2, it can be helpful to gather:
Vendors' addresses
Account number
Payment terms
Vendor AR contact info
Open your Vendor Setup page in your MarginEdge account to follow along.
Only vendors who have a US remittance address are eligible to be paid through Bill Pay. If you have questions, please reach out to help@marginedge.com.
#2 Enable your Vendors
Here is how you can select the vendors you want to pay with [me] Bill Pay and add any missing information. From the main MarginEdge menu, go to Bill Pay > Setup, and click Manage Bill Pay Vendors: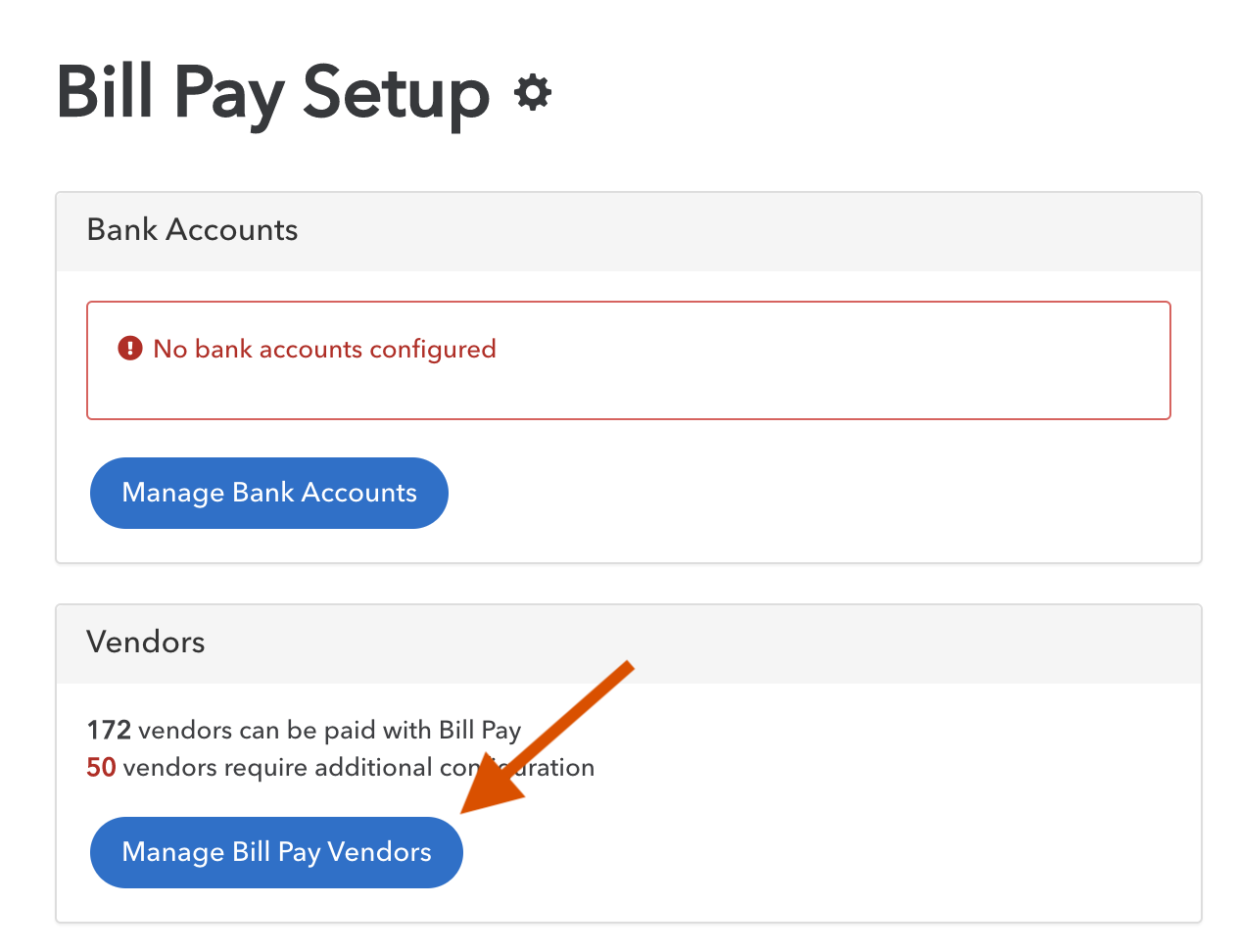 In the Vendor Setup screen, you will see a list of all of your vendors for which we have received invoices. You can control which invoices flow through Bill Pay by toggling each vendor ON or OFF. If a vendor shows "Yes" in the "Pay with Bill Pay?" column those invoices will be eligible to be paid here.
Enable the vendors you want by clicking on their name and toggling the "Bill Pay Enabled?" switch to On. Disable the vendors that you do not want to pay using ME Bill Pay by toggling this switch to Off.
(Remember that if you marked an invoice as paid before it was uploaded, those will automatically skip Bill Pay.)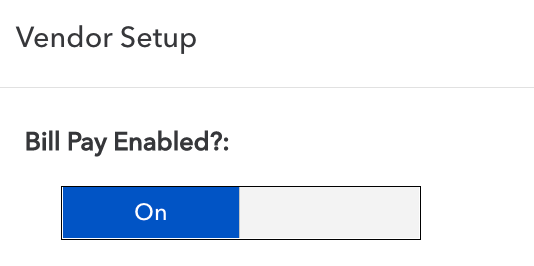 PRO TIP: to Enable/Disable multiple vendors at once (instead of clicking into each one), use the checkbox column on the left side of the vendor table in the Vendor Setup screen, then select Enable/Disable from the "Bulk Actions" dropdown at the top of the table: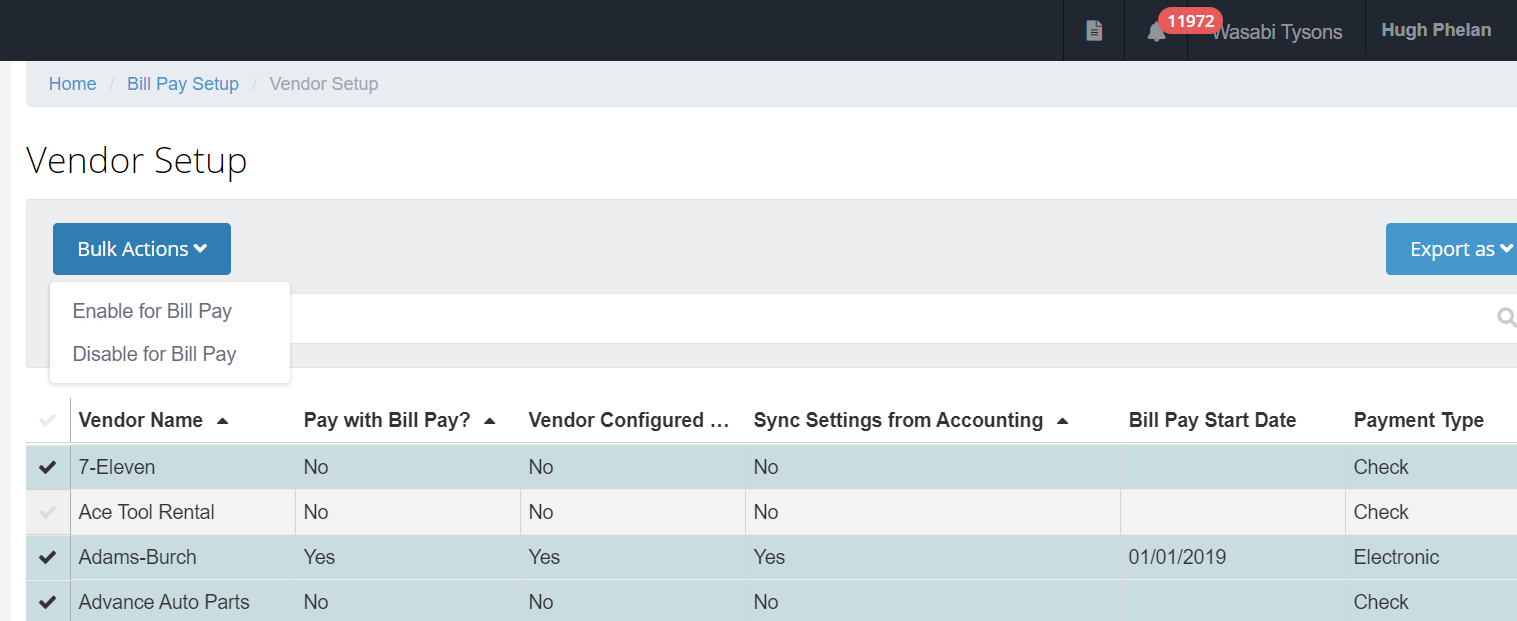 Configure your Vendors
Use the Vendor Setup screen for a snapshot on who needs what:
"Pay with Bill Pay" : YES = enabled and ready to be configured
"Vendor Configured" : YES = enabled and configured and now ready to pay!
NO = click in to fill in missing information
"Sync from Accounting" : YES = [me] will default to using any information available in your accounting system for this vendor as the correct info
NO = you will need to manually ensure there is a correct remittance address and any terms you want to provide
"Bill Pay Start Date" : = optional field that is only required if you want to use AutoPay
"Payment Type" : = displays how this vendor will be paid; you cannot adjust this setting.
When you click into the vendor (or right after you toggle them ON), you will see this screen. The field descriptions are below.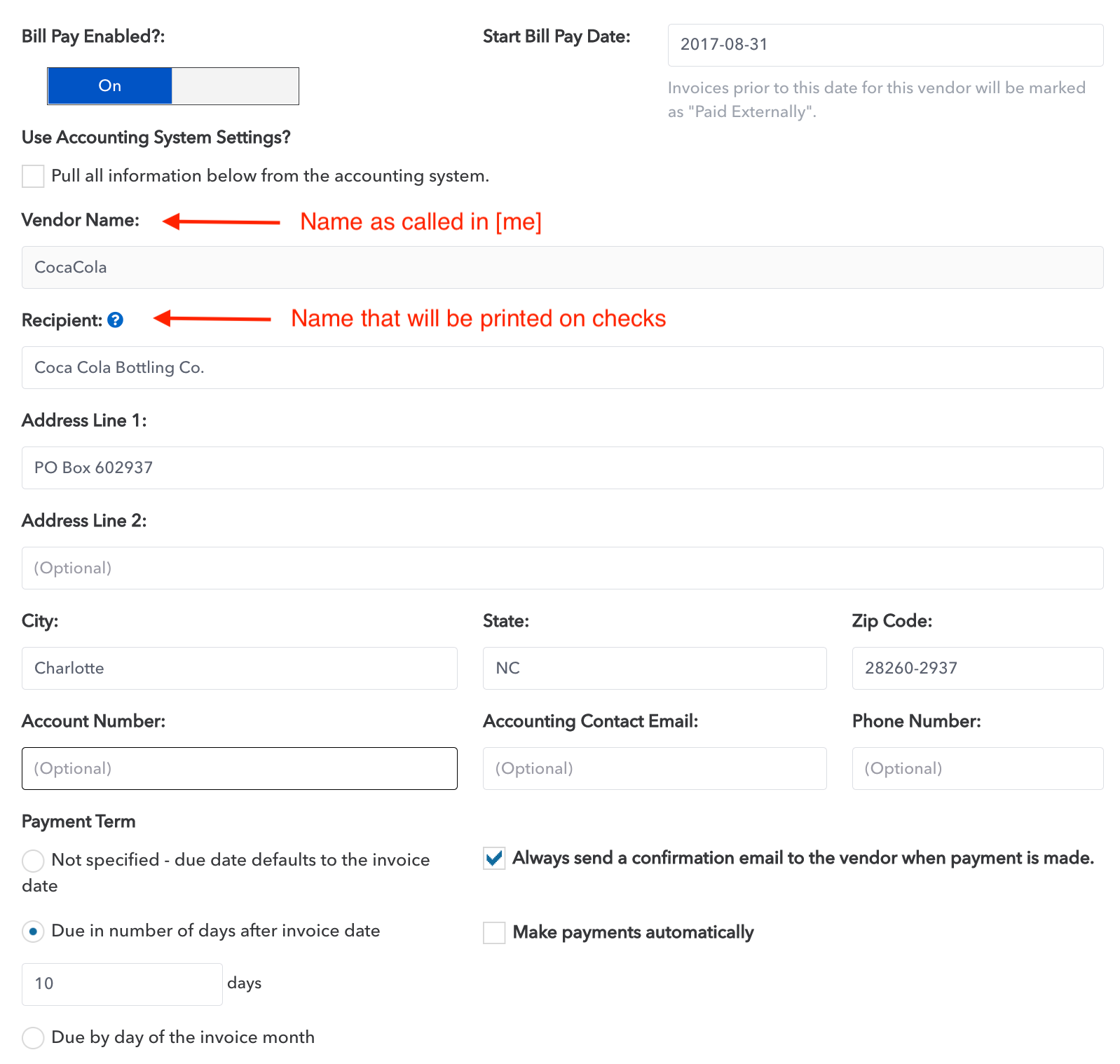 "Pull all information below from the accounting system."

Our team captures remittance addresses and payment terms when available. You may prefer to sync this information from your accounting system by checking this box. *See the note below for more information*
"Start Bill Pay" date - All invoices from before this date will be excluded from your main Bill Pay Invoices screen. This is an easy way to avoid showing uploaded invoices that have already been paid outside of ME Bill Pay. If you leave this field blank, you will see all invoices for this vendor that have been closed to AP. (This is a required field for any AutoPayments.)
Vendor / Recipient - The "Vendor" line shows what the vendor is called in [me] and is not editable. The "Recipient" is editable (when your sync from accounting is off) and is what will be printed on the checks.
Mailing address - REQUIRED for delivery!
Account number
Payment terms - MarginEdge uses the payment terms from this screen to calculate the due date for all invoices from this vendor. If you select the default option "No due date", our system uses the date of the invoice as the due date.
"Always send a confirmation email..." - this box allows you to set a preference regarding whether you want the vendor to receive an email when the payment has been sent. If you leave this blank, you are also given the choice to send the email each time you confirm a payment. Learn more here.
"Make payments Automatically" - this can be enabled for any vendor and will utilize the "Start Bill Pay Date" and the "Payment Terms" to schedule a payment. Learn more here.
*Note: This "Pull from accounting system" box only appears as an option if the vendor has been mapped to a vendor in your accounting system. When enabled, some fields are locked and no longer editable.
You can enable this feature individually per vendor, or you can set this for all Bill Pay Vendors by going to the Vendors settings page. There's instructions on how to do this here. Unchecking this box will not remove the information pulled from your system but will allow you to edit it or add to it as necessary.
MarginEdge does not export any remittance addresses or payment terms to your accounting system.
When all the necessary information has been added for a vendor, the Vendor Configured column in the Vendor Setup screen will change from "No" to "Yes".
Did You Get Your Vendors Enabled and Configured?
If you answered yes, you're now ready to pay your bills!
For help, see the article - How do I pay invoices using [me] Bill Pay?