Vendor Setup – nearly ready for electronic payments!
Once you have set up Bill Pay and have added at least one bank account, you are ready to set up your vendors. You will handle all Bill Pay transactions and vendor set up on the main Bill Pay screen.
From the main MarginEdge menu, go to Bill Pay > Setup > Manage Bill Pay Vendors
Vendor Setup
When you click on the Manage Bill Pay Vendors button on the Bill Pay screen, you will see the list of all vendors in MarginEdge (please read below for details on unpaid items). All vendors default to Bill Pay enabled and need configuration. However, you can disable Bill Pay for select vendors you will not pay using the system.
For each vendor, you will select:
add setup information (Bill Pay)
OR
disable Bill Pay (alternative payment)
1) Add setup information for a vendor
To configure Bill Pay vendors, click the vendor name; on the Vendor Setup screen, enter the following:
"Start Bill Pay" date
Mailing address (required for delivery!)
Account number (optional, but recommended)

Payment

t

erms
Because many invoices do not include payment terms or a due date and many invoices list generic payment terms which differ from the payment terms for specific restaurants, MarginEdge uses the payment terms you enter here to determine the due date of all invoices from this vendor. If you select the option "No due date," our system will use the date of the invoice as the due date.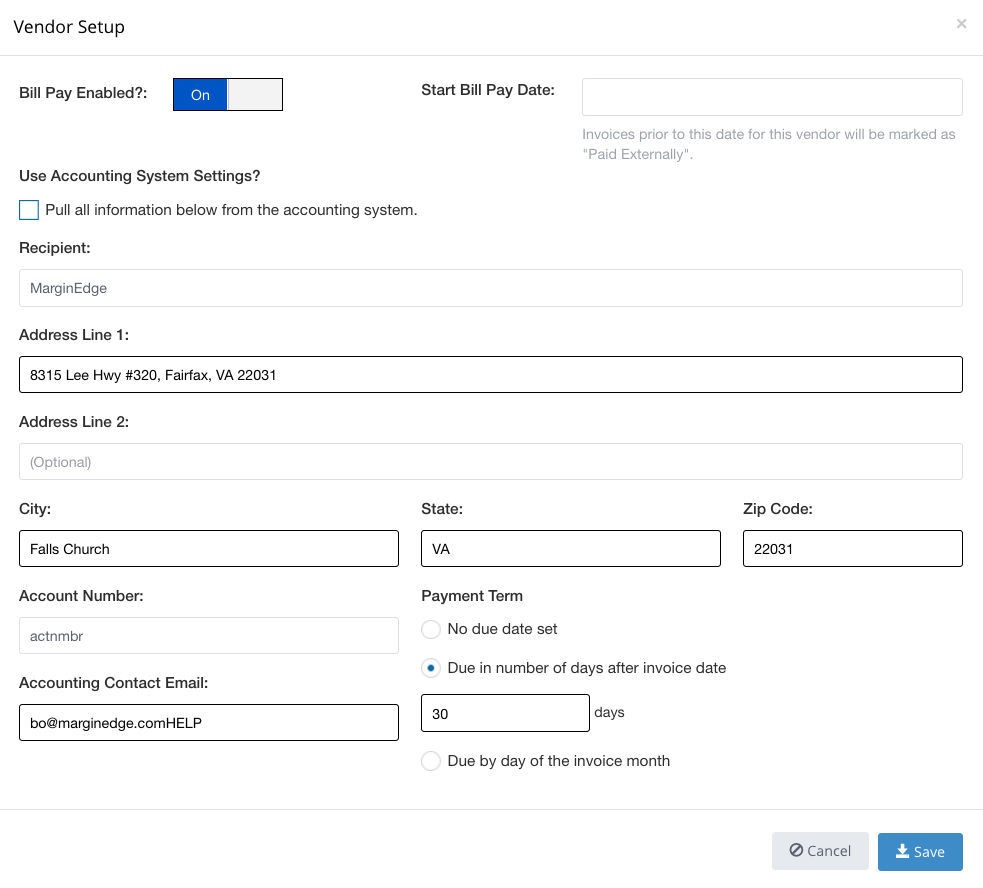 If you have remittance addresses and payment terms information in your accounting system, you can check the "Pull all information below from the accounting system" box and we will auto-populate all of these fields from your accounting system.
This button only appears when your vendor a vendor has been mapped to your accounting system vendor.
As long as the box is checked, this information will be locked to your accounting system. Unchecking the box will not remove the information pulled from your system but will allow you to edit it or add to it as necessary
When all the necessary information has been added for a vendor, the "Vendor Configured" status column will change from "No" to "Yes."
Disable Bill Pay for a vendor
For any vendors you will not pay using Bill Pay, simply click the vendor name, then switch the "Bill Pay Enabled?" option to "Off."
After setting up all your vendors, you are ready to pay bills electronically!
Unpaid Items
When you set up Bill Pay vendors for the first time, you'll see a message that looks like this: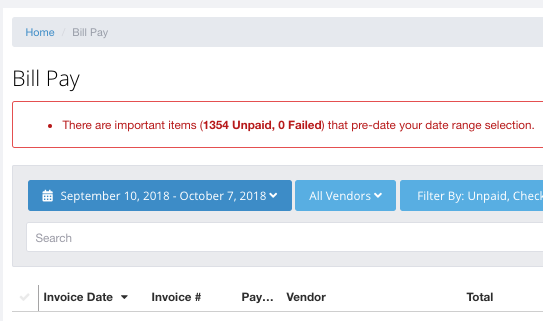 The unpaid invoice count refers to bills in the system that have not yet been paid AND have not yet been marked as "Paid Externally."
If an invoice is tagged as "Paid Externally," it will no longer appear in the list of unpaid invoices. This is typically needed when you have been sending invoices through MarginEdge for some time and later switch to Bill Pay.
As you set up each vendor, you will specify the "Start Bill Pay" date; all invoices for a vendor before that date will be marked as "Paid Externally" and removed from the warning.
You can also manually flag invoices as "Paid Externally"
When done setting up your vendors, you are now ready to pay bills! For help, see the article -
How do I pay invoices using ME Bill Pay?