Vendor Setup – nearly ready for electronic payments!
Now that you've added a bank account and your company information (instructions here), you need to select the vendors you want to pay with ME Bill Pay and make sure there's a remittance address and payment terms for each one. Here's how:
From the main MarginEdge menu, go to Bill Pay > Setup, and click Manage Bill Pay Vendors to go to the Vendor Setup screen.
In the Vendor Setup screen, you will see a list of all of your vendors that are in MarginEdge. Only invoices from vendors that have a "Yes" in the Enabled column will show up as payable on your main Bill Pay Invoices screen. Enable the vendors you want to pay using ME Bill Pay by clicking on them and toggling the "Bill Pay Enabled?" switch to "On". Disable the vendors that you do not want to pay by toggling this switch to "Off".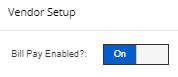 All Enabled vendors need to be Configured before you can send them payments. You can see whether a vendor is configured or not by looking at the Vendor Configured column in the Vendor Setup screen. To configure enabled vendors, click each one's name and enter the following:
"Start Bill Pay" date (optional but recommended). All invoices from before this date will be excluded from your main Bill Pay Invoices screen. This is an easy way to avoid showing uploaded invoices that have already been paid outside of ME Bill Pay. If you leave this field blank, you will see all invoices for this vendor that have been closed to AP
Mailing address (required for delivery!)
Account number (optional, but recommended)
Payment terms. MarginEdge uses the payment terms from this screen to calculate the due date for all invoices from this vendor. If you select the default option "No due date", our system uses the date of the invoice as the due date
Our team of analysts capture remittance addresses and payment terms where available. If unavailable, you can sync this information from your accounting system by checking the box "Pull all information below from the accounting system." This box only appears as an option if the vendor has been mapped to a vendor in your accounting system. Unchecking this box will not remove the information pulled from your system but will allow you to edit it or add to it as necessary.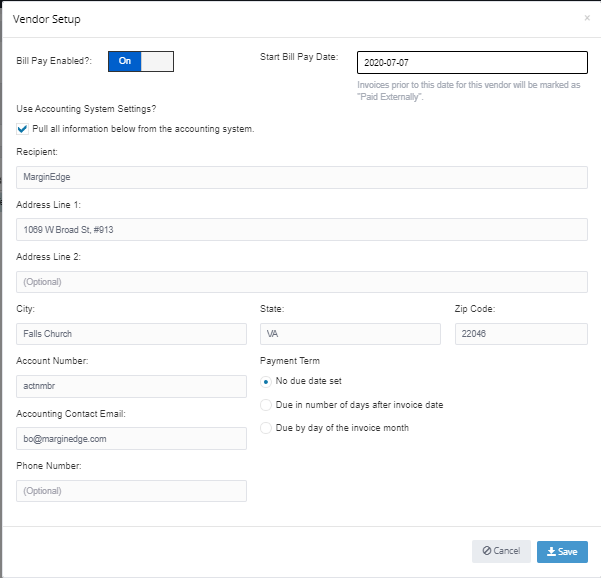 When all the necessary information has been added for a vendor, the Vendor Configured column in the Vendor Setup screen will change from "No" to "Yes".
Once you've selected and configured the vendors you want to pay with ME Bill Pay, you'll be ready to pay your bills! For help, see the article -
How do I pay invoices using ME Bill Pay?