Now you can set it and forget it with our AutoPay feature! Enabling this can help create on-time payments and reduce the manual work or approving payments. You must have a processed invoice in MarginEdge to trigger this payment; in other words, it's not for reoccurring payments that don't get an invoice entered into MarginEdge.
This feature goes hand in hand with our Recurring Category-Level Invoices. Pair those these two and… chef's kiss - never worry about accounting for or remembering to pay those expenses ever again. We got you covered!
Once set up, you will see the AutoPay symbol next to the vendors for which it is enabled.

To Enable AutoPay
*Note that if you have the Payment Approval feature enabled, only people with that role will be able to configure this because vendors with AutoPay enabled skip Payment Approval process.
AutoPay is configured on a per-vendor basis. So you may only decide to put your most important vendors on AutoPay and pay the rest manually to better control your cash flow. Or you could AutoPay vendors with typically small invoice amounts and manually pay vendors whose invoices deserve a bit more scrutiny.
To enable AutoPay for a specific vendor, go to Bill Pay > Setup > Manage Bill Pay Vendors > Select Vendor. Please note, this setting is unit-specific, meaning if you want each of your Company X vendors set up to AutoPay in all locations you manage, you will need to repeat these settings in each unit.
On the Vendor Setup modal, there is checkbox option for Make payments automatically. When this is selected and the user clicks Save, AutoPay is enabled for that vendor.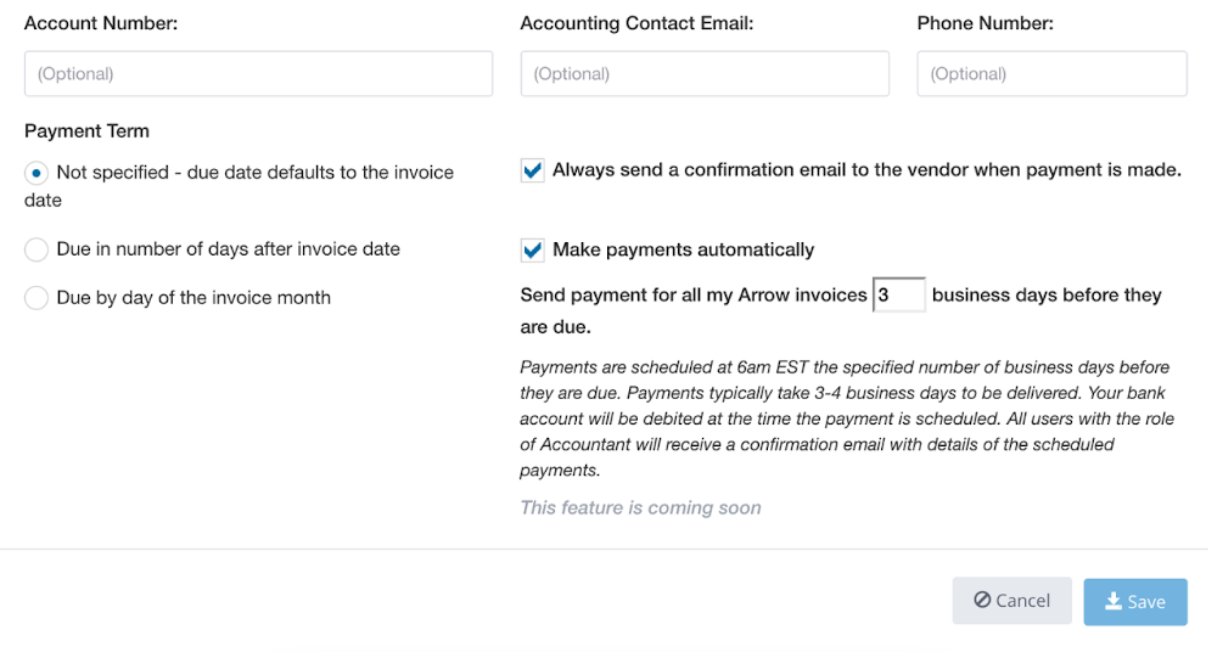 The following Vendor Setup fields are required before the "Make payments automatically" checkbox can be selected:
Start Bill Pay Date: so we don't accidentally AutoPay a long history of bills

Payment Terms: you must enable either the second or third option provided; it cannot remain as unspecified.
Please be thoughtful when setting the number of days you want to allow for processing. We suggest 3-4 business days, but keep in mind the distance your particular check may need to travel (and remember they all go through USPS with no timeline guarantees). When calculating business days, we do factor in weekends and holidays to help account for potential delays.
When Do the AutoPay Payments Get Sent?
You will see your payment appear on the Payments screen when the Invoice Due Date = Today + Configured # of Business Days + 1. The payment will be scheduled to send the next business day and have a Description/Memo of "AutoPay". All Accountant users at the restaurant will receive a confirmation email.
Example: You have an invoice from Sysco that is due April 8, 2022. The vendor is configured for AutoPay with payments scheduled for 4 business days before the due date. On Friday, April 1, a payment will be created via AutoPay and populate in Bill Pay > Payments, with a Send Date of Monday, April 4.
AutoPay works for both physical checks and electronic payments. The method is determined by what your vendor tells us they prefer.
Selecting an AutoPay Bank Account
If you have one bank account, all AutoPay payments will be made from that bank account.
If you have multiple bank accounts, we default to using the first bank account in the list as your AutoPay bank account. You can change this by going to Bill Pay > Setup > Manage Bank Accounts and clicking "Use for AutoPay" next to your preferred bank account.

Note: AutoPay is currently not available for companies with Company Bill Pay enabled.