If you have a closed invoice that needs some adjustments here are the two options you have. Please remember that if you have already sent the invoice to your accounting system, you will need to either make the adjustments in your accounting system as well, or delete the invoice there and re-send it.
1. Using the Pending Approval Feature
If you are making use of our Invoice Approval feature, then you have the option to move an invoice that was previously approved and closed back to the approval screen to make any needed changes.
Go to Orders > Orders and find the invoice you are needing to adjust. Click on the invoice and then scroll all the way down to find the "More Options" button.
Click the arrow and choose "Move back to Pending Approval"
Now you have access to edit the invoice in all the ways explained in our Using Invoice Approval article.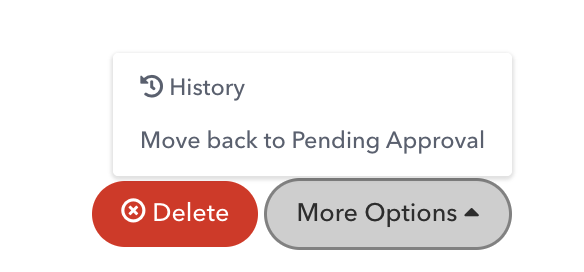 2. If you aren't utilizing the Pending Approval feature
If you don't have this feature enabled, then you will need to email help@marginedge.com to ask them to make the changes you need. Please include all relevant details: restaurant unit, vendor, invoice number and any changes needed.