If you are one of our many clients who manage multiple units in MarginEdge, first, thank you! And second, we put this cheat sheet together to help clarify how things may function a little bit different for you.
When I'm making changes, which settings apply to ALL units and which only apply to the unit I'm in?
When using MarginEdge, if you make changes in one of your units, those edits will either transfer across and affect the other units under a shared Company, or will be unit-specific and only reflect in the unit that you are logged into.
Below is a short list of where things do and do not transfer across.
Data & settings that are linked, where edits transfer across all units:
Unit-specific, where edits do not transfer across units:
---
Where can I see all [fill in the blank] from all of my units in one place?
Products - toggle on or off to see products only purchased at that unit
Go to Products > View all Products to see these.
Article: How are Vendor Items and Products related?


New Item Review - toggle on or off to see items only purchased in that unit
Go to Products > New Item Review to see these.
Article: Using the New Vendor Item Review

Budgets - see individually or all rolled up
Go to Performance > Budgets to see these.
Article: How do I review my Budgets?

Sales - choose one unit or all units
Go to Performance > Sales to see these.
Article: Sales Figures and Reports

Bill Pay - Company View for Bill Pay
More information is below on this special feature that must be requested! Or click through to the article.
Article: Multi-Unit View for Bill Pay: Company View

P&L - coming soon!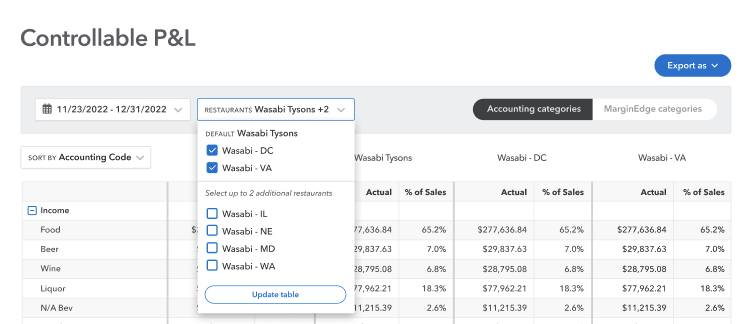 ---
Tips and Tricks for Various Features
Uploading Invoices
Your biggest challenge: Ensure you are logged in to the correct unit!
It's easy to forget to select the correct unit before either using the app or uploading from the browser. In general, we trust that you meant to put an invoice in the location we find it in, so we will process it even if the "Bill to" address is another unit. (Never fear though, you can move it later if you goofed.)
Article: Uploading Invoices
Recipes
If you wish to restrict a recipe so that it is only viewable at some of your restaurant units, you can apply this to any chosen recipe. This is helpful to think about as you are initially creating your recipes so that it's set up correctly from the beginning.
Article: Restricting Recipes to specified Restaurant Units
Benchmarking Groups
All active MarginEdge restaurants will show data as compared to a defined geographic region within either the Full Service or Fast Casual designation. The geographic region will be specific to each unit. But the Full Service or Fast Casual designation is shared across the entire Concept and cannot be specified per unit.
Article: Benchmark Sales Reporting
User Settings
If you click on your user name in the upper right hand corner, you will see a drop down menu where you can access your "Settings". These preferences will be saved across all of the units you have access to, but they are only for you and will not impact any other user's settings or view, even within the same unit.
Article: Your Personal User Account Settings
Bill Pay
When setting up bank accounts, this process will need to be completed in each restaurant unit. But if any units share the same account, once you have entered the information in one unit, you have the option to "Import Bank Account" instead of re-entering that information each time.
Additionally, MarginEdge also offers a Company View for Bill Pay feature that will allow you to manage all of the payments for all of your units from one screen. (Note, they must all share the same bank account!)
Article: Company View for Bill Pay