With MarginEdge, you have a full recipe management system you can use to enter and price recipes, keep them organized and even print them with photos for use in your kitchen. Once you have input your recipes you can:
Important: Recipe input should not be attempted in the first 30 days. Please wait until we have processed at least 30 days of invoices and generated your product database so you have a solid list of products with prices.
OOO Alert! If capacity and timelines are tight, our product experts can swoop in to provide an extra hand, getting your account set up quicker, without sacrificing you or your team's capacity. Let [me] take the hassle of recipe data entry off your (already very full) plate. Here's what we can do for you and your team:

Enter recipes for you (pricing is based on number of recipes)
Work through materials your team provides and align on outstanding questions
Provide an overview on how to edit and add new recipes moving forward

Contact recipes@marginedge.com for more details and pricing.
Understanding our three default categories
There are three categories of Recipes in ME, each with its own menu option as shown below: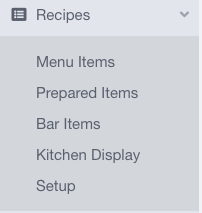 Menu Items: these are the actual items or "plates" shown on your menu as appetizers, salads, entrees, desserts, etc. These are sometimes called plating procedures, as they are often a description of how to assemble a final plate and will typically include the combination of multiple prepped items. Menu items are generally single servings of items as they would appear on your menu.
Prep Items: A good place to start. This recipe type is the only type of recipe that can be used in other recipes. These could be anything from dressings, sauces, bases, fabricated portions of meats or seafood, cocktail mixers, and batch recipes. Basically, you want a prep item for any recipe you may want to include in another recipe, or for a portion larger than the one you serve on your menu.
Bar: these are recipes for any cocktails or drinks used at the bar. Essentially, Bar Items and Menu Items work the same way in the software, but they're different places to hold your recipes to help keep your menus easy to organize.
Recipe Setup is First
MUST HAVE
Recipe Types
Before you can enter any recipes, you will need to first create "Recipe Types". You'll find this option on the Recipes > Setup page. Every recipe you create, whether Menu, Prepared or Bar Items, has to be associated with a Recipe Type. Recipe Types provide a way of organizing your recipes. Here are some examples of Recipe Types:
| | |
| --- | --- |
| Recipe Category | Examples of possible Recipe Types (they will be different for everyone) |
| Menu Items | Appetizers, Salads, Soups, Sandwiches, Entrees, Late Night Menu, Kids Menu |
| Prepared Items | Batch Recipes, Dressings, Line Recipes, Bases, Seasonings, Dips |
| Bar Items | Signature Cocktails, Margarita Mixes, Happy Hour Cocktails |
NICE TO HAVE
Equipment
On the Setup page, you can add equipment that will be used in your recipes. For any piece of equipment you add, you can provide a name, a description, and a photo. As you add new equipment, it is available to select during the creation of any recipe.
As you start to add equipment to recipes, you can always return to the Recipes > Setup area to see what recipes are associated with a piece of equipment. Select "Manage Equipment", and select any piece of equipment to view the list of all recipes that use it.
Allergens
On the Setup page, you can add allergens to the system. Once an allergen has been added, you can associate the allergen with a product. To do this, use the Products page to find the product, then click the "Edit Product" button. On the Edit Product page, a "Manage Allergens" button on the bottom right of the page allows you to associate one or more allergens to that product.
As you start to associate allergens with products, you can always return to the Recipes > Setup area to see what products are associated with what allergens and what recipes contain which allergens. Select "Manage Allergens", and select any one, and you will be able to see a list of all recipes that contain it as well as all products that contain that allergen.
Once you have your desired allergens in the system, and Products that have allergens associated with them, every recipe will give you a list of allergens based on the products added to the recipe!
Next Up