What is vendor mapping?
When new vendors are created in MarginEdge while processing your invoices, they will need to be mapped to the corresponding vendor in your accounting system in order to be exported. Some new vendors map get mapped automatically, but others will require you to go in and select the appropriate vendor yourself.
If you have an invoice "Needs Attention" status, this means that the vendor associated with that invoice, you also may receive a "New Vendor Alert" email prompting you to map a vendor.
How to map your vendors
To map a vendor go to the Accounting > Vendor Mapping Menu on the lefthand side of the screen on the web application.
Here you'll see a list of all your vendors and how they're mapped. You can change these mappings at any time. Any vendor with a blank field in the Accounting System Vendor column is not mapped.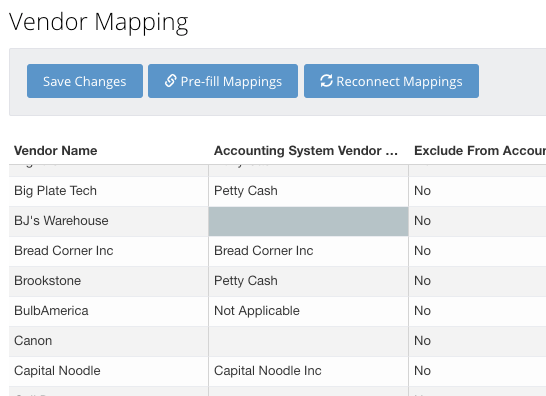 To map this vendor, triple-click the blank field in the Account System Vendor column to see a drop-down list of all your vendors. Select the corresponding vendor and press save.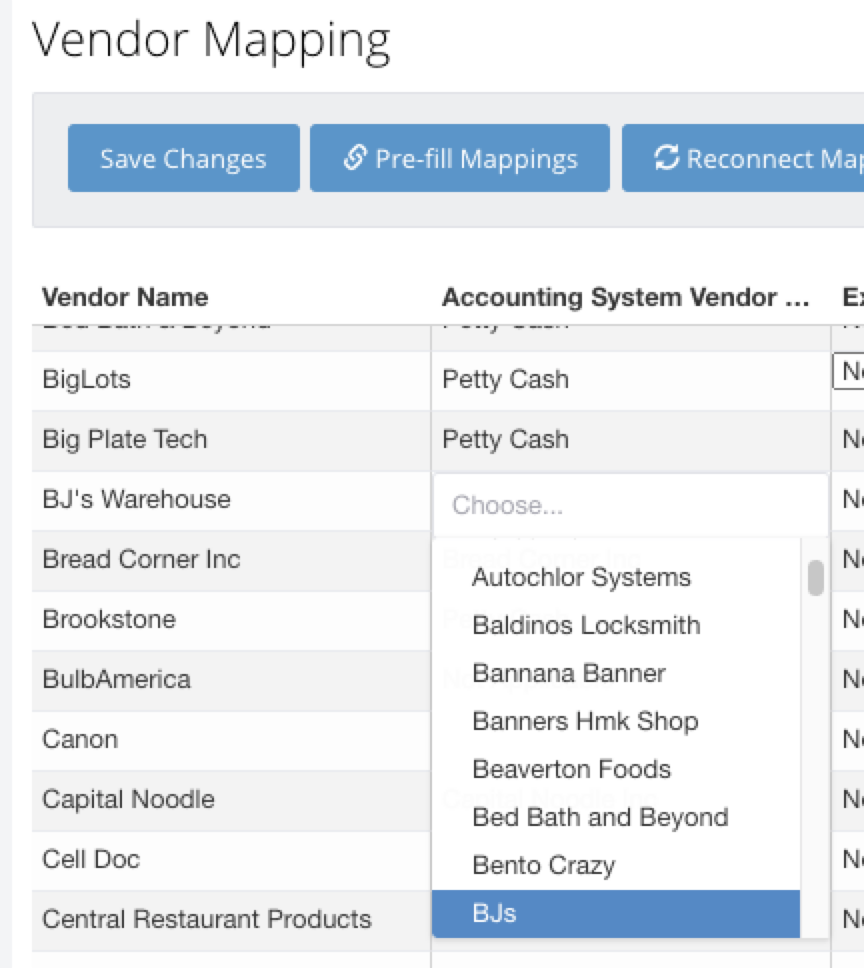 What if I don't see the Vendor from my accounting system?
If the vendor doesn't exist yet in your accounting system, you'll need to map it. If the vendor does exist you should see it in MarginEdge.
If you are using, QuickBooks Online, Xero, Intacct and other cloud-based integration vendors will appear automatically in MarginEdge when they are added to your accounting system.
If you are using QuickBooks desktop, we only get an updated vendor list when you update web services in QuickBooks as you would when importing invoices to update our vendor list in MarginEdge.
If you are using Compeat or Restaurant365 you can map new vendors by entering the vendor code from the accounting system in the Accounting System Vendor Field.
For most accounting systems with "flat-file integrations" you'll need to update your Vendor list by exporting your current vendor list from your accounting system uploading it to the vendor mapping page. You'll know that this is the case if you see a button on your vendor mapping page that says "Upload Vendor File".