This article outlines the steps for paying your MarginEdge subscription/bill.
Your MarginEdge subscription will auto charge on the billing date and you will not be required to enter this information each time. If you want to receive an invoice automatically, configuring your Billing Contacts will allow you to set up an emailed invoice and optionally have it sent straight to your MarginEdge unit.
Entering Payments Details
1) Navigate to Setup > Subscription Details. Once you get to the subscription page, you will see the following screen showing the bill amount, bill due date, payment details and billing contacts. Click the "Input Billing Details" button.

2) On the Billing Details screen, select a plan. There are two options to choose from: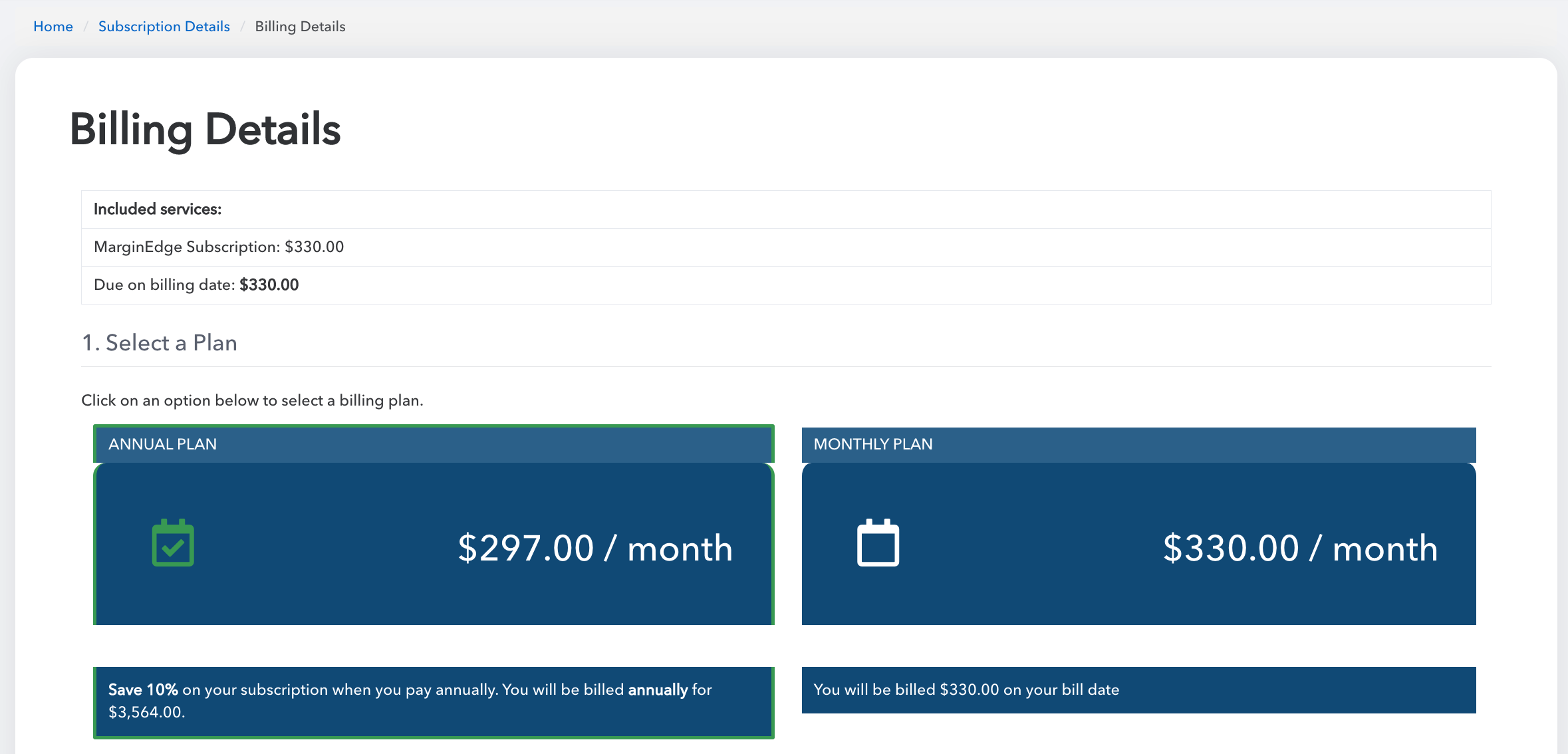 Annual Plan- You can save 10% on your subscription cost if you select to pay for one year up front. If you chose this, you will be billed annually for $3,5640.00. That works out to be $297.00/ month instead of $330/ month. You can cancel at any time and request a refund for the remaining amount on your subscription.
Monthly Plan- You will be billed $330/ month.
3) Once you have selected the plan, choose the payment option. There are two options to choose from: ACH and CREDIT CARD

4) Now that you have selected the payment option, you are ready to start entering the payments details.
CREDIT CARD
Please fill out the required form details. Note: a 3.5% processing fees is added when paying with a credit card.

ACH
If you select this payment option, there are no processing fees. Please enter the Phone Number as 8884889612 and not 888-488-9612.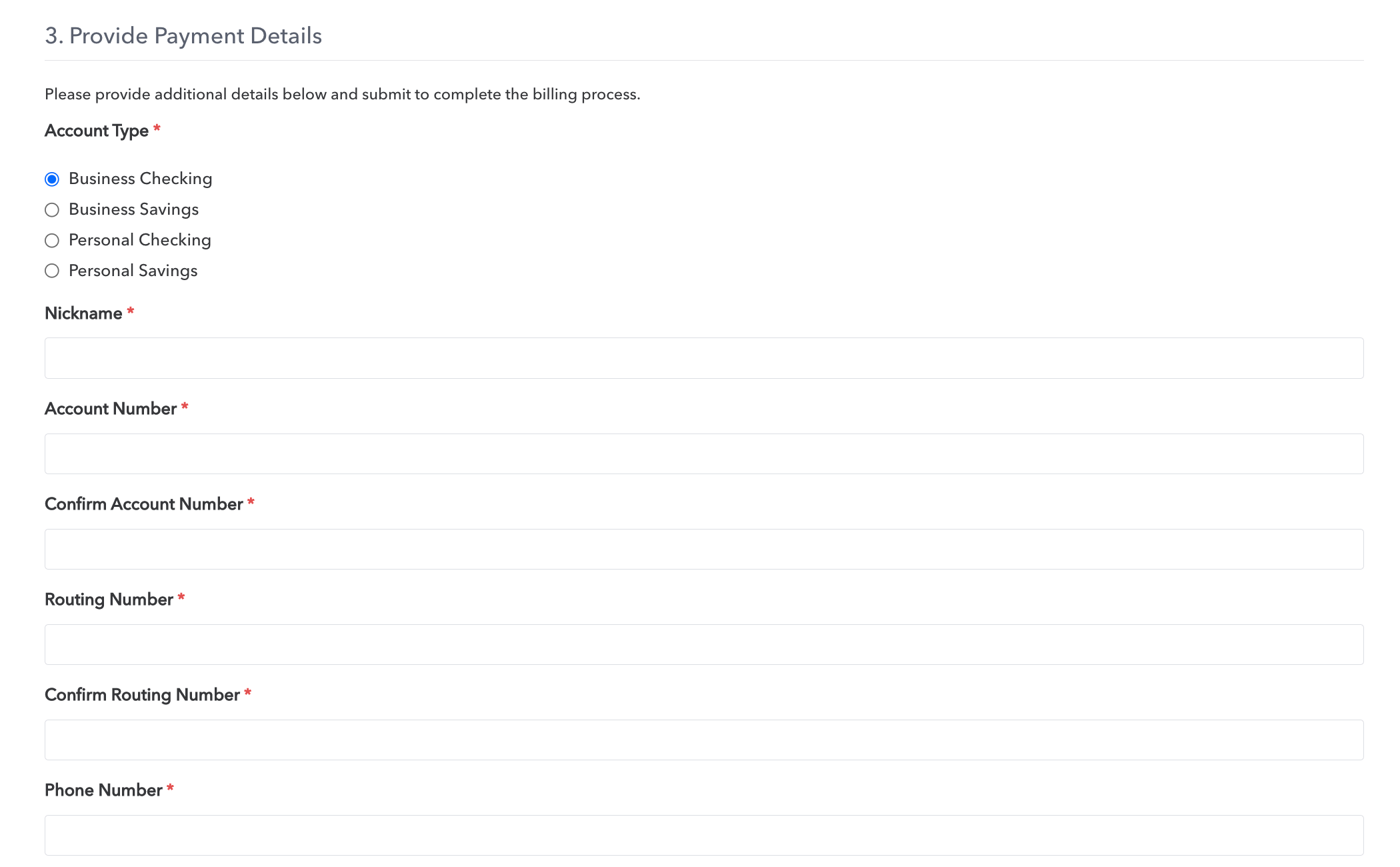 5) After inputting the appropriate account details, please type your name in the box to certify use of the digital signature and check the box to agree to using it.
6) Then add a signature to the signature box by either drawing or inserting an image.
7) Click the box at the bottom to "Review Payment Details"

8) Once you've reviewed the details please check the box to acknowledged the billing details.
(If you have selected ACH you will be presented with the option to save the same billing information for our Bill Pay feature).
9) Click Save to submit the payment details.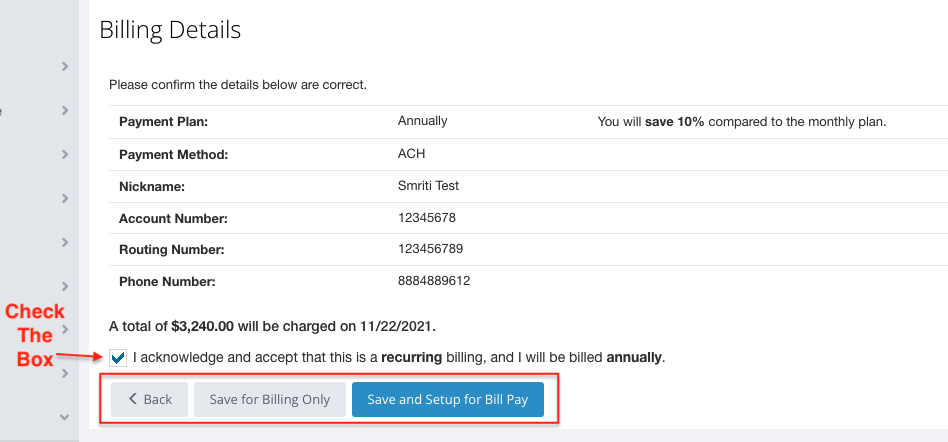 Entering Billing Contacts
If you want to receive a copy of the invoice for your records, you'll want to configure your Billing Contacts. If you don't enter anything, then you will just see the charge on your bank/credit card statement and not receive an invoice.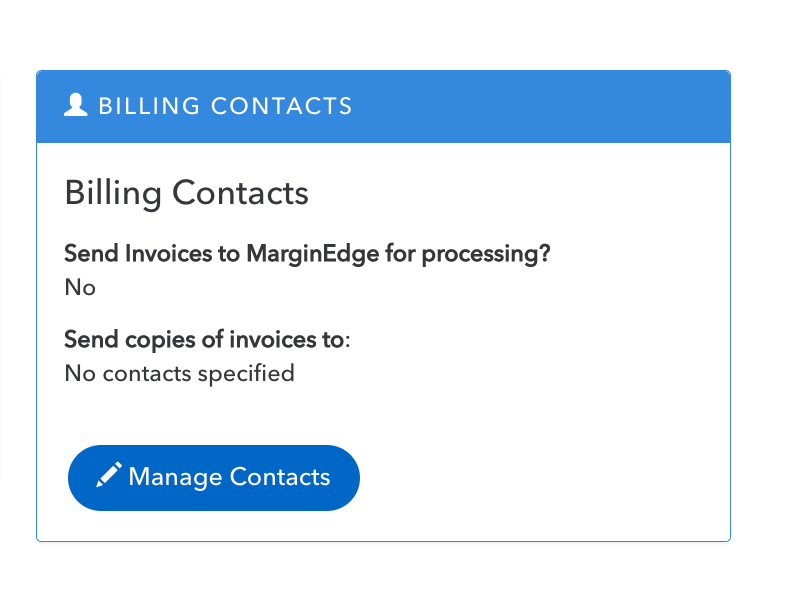 Using the button on the far right side, once you click "Manage Contacts", you will see a pop up box that asks you if you want the invoices sent to MarginEdge. If you check this box, then an invoice will automatically be processed in your unit and be available for you to export to your accounting system.
If you want anyone on your team to receive a copy of the invoice via email, please add those email addresses in this box as well.