After you have created your Products for your Commissary, you will need to make sure you have the order guide set up correctly.
You can easily "configure" your Order Guides to look how you want and then print them using the "Download Order Guide" option to get a PDF of your guides.
To Configure an Order Guide:
Select "Vendors" from the main menu on the left. Every vendor is shown in a table, and there are two icons on the right side of every row that let you "configure" or "download" a vendor's order guide.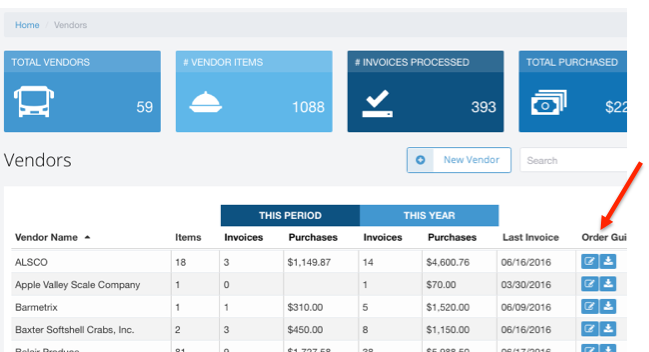 Click

to Configure the Order Guide for the vendor.
Click

to Download the Order Guide for the vendor.
Alternatively, you can access an order guide by selecting the vendor first. To select a vendor, click anywhere on the row for that vendor to get to the vendor's details page. Near the top of the vendor's page, click on "Configure Order Guide" (see red arrow below.)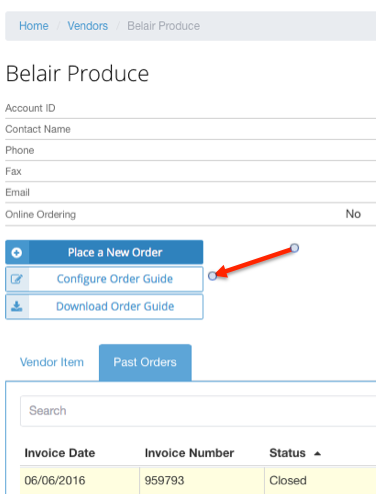 To change how items are Organized:
Scroll down to the "Organization" section.
Use the dropdown box (see arrow below) to select whether the guide is sorted Alphabetically or by Category. When sorting by Category, items will be in alphabetical order within a Category.
You can remove items by clicking the red X on the far right (it will only be removed from the guide - it's not removed from [me]!)
When using the "Custom" sort order, you can drag items up or down using the up/down arrows on the right of each line or by clicking and dragging a row to a different place. Note that a Custom sort order will be harder to maintain over time as you add new items and need to move them.
Once you make your changes, remember to click SAVE at the bottom.

To add a new Product to the Guide
As shown in the image above, click "Add Item". This brings up a box where you can use the empty box to search for the Product you want to add.
Once you have the Product, enter the Packaging description you want displayed on the Order Guide.
Set the Quantity and select the Unit. If the Unit is different from the current Count-by, then we will ask for a conversion. As shown below, we want to make a sleeve of quart containers available, so set that there are 12 sleeves available in a case of 240.
Once finished, click Save. Keep adding as many as needed!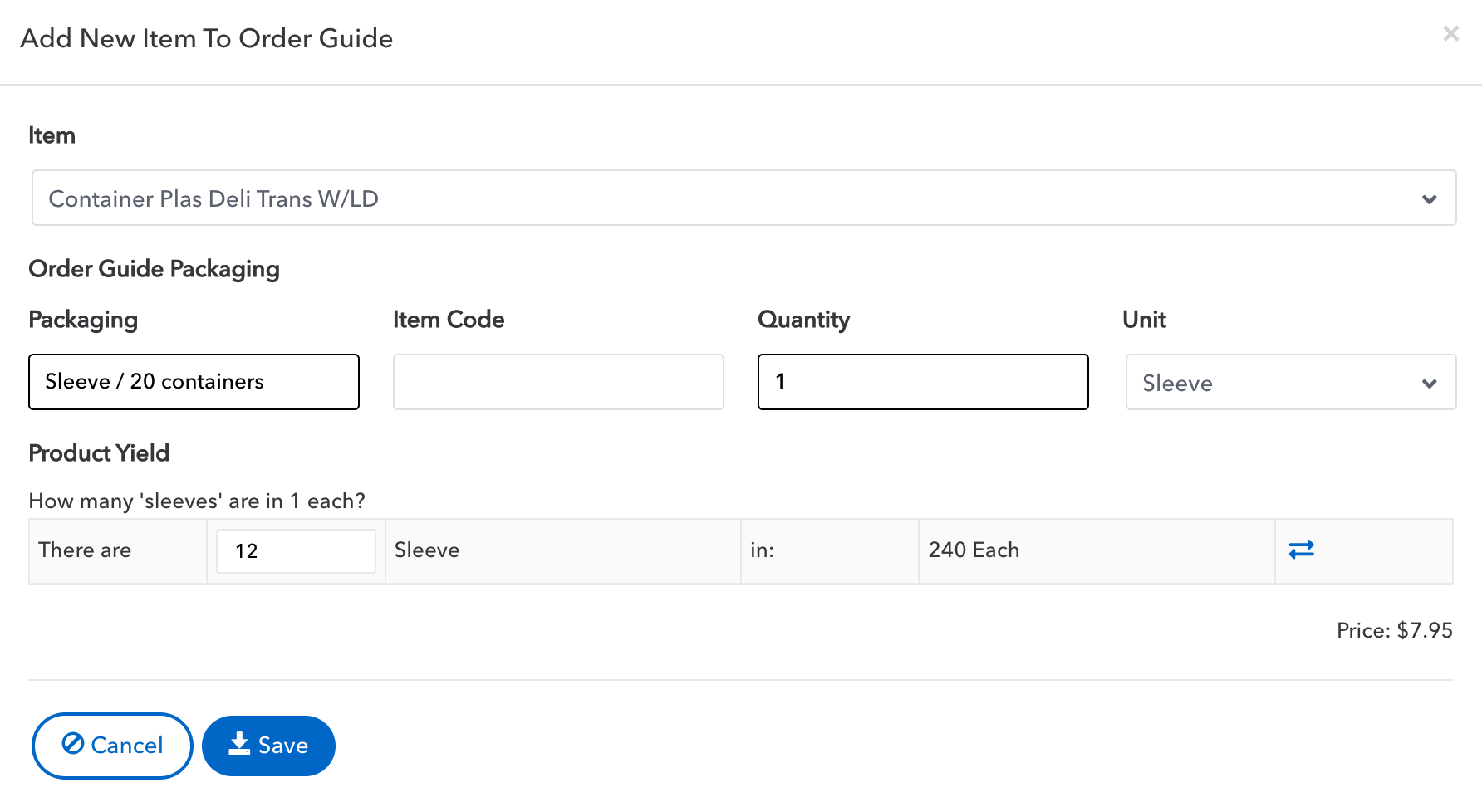 More Information
We have a number of articles and videos about setting up an Order Guide, and it's not any different for the Commissary. Please feel free utilize these resources: