For every one of your vendors who have invoices processed in MarginEdge, we automatically generate an Order Guide for them to include all available vendor items.
You can easily "configure" your Order Guides to look how you want and then print them using the "Download Order Guide" option to get a PDF of your guides.
Video Instructions: Order Guide Setup
Video Instructions: Multi-Unit Order Guide Setup
If you order from the vendor directly in MarginEdge, the way you organize your items on the Order Guide is also how you'll see them organized for your online ordering.
To Configure an Order Guide:
Select "Vendors" from the main menu on the left. Every vendor is shown in a table, and there are two icons on the right side of every row that let you "configure" or "download" a vendor's order guide.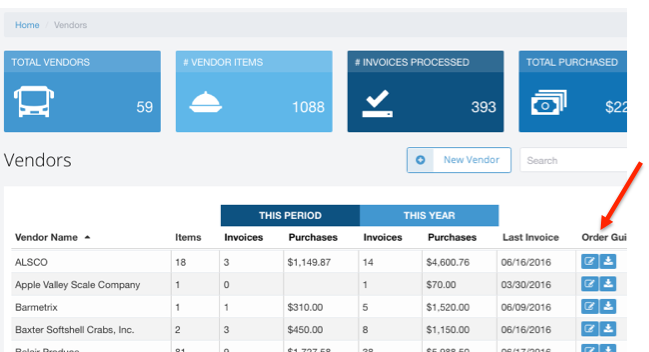 Click

to Configure the Order Guide for the vendor.
Click

to Download the Order Guide for the vendor.
Alternatively, you can access an order guide by selecting the vendor first. To select a vendor, click anywhere on the row for that vendor to get to the vendor's details page. Near the top of the vendor's page, click on "Configure Order Guide" (see red arrow below.)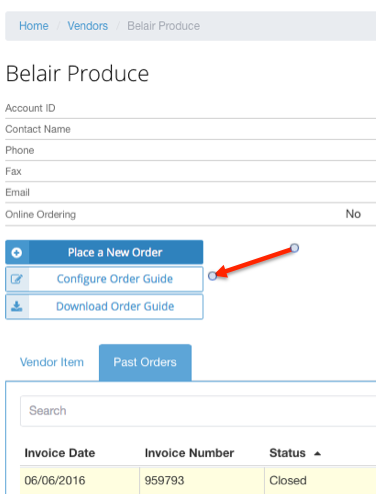 On the "Order Guide Setup" screen, you can control how the guide looks when printed, and you can organize all the items you want shown on your guide.
How you organize everything you buy on this page will affect the printed Order Guide and the online Order page for that vendor if you order online through ME.
You have a variety of setting options you can choose from. There is more information about Pars, On Hand and Last Count settings in this article: Setting Pars and On Hand Counts for Online Ordering.
Keep reading for print set up and adjusting how items are organized.
To change Print Settings:
You can check or uncheck the boxes to control what is shown on your printed Guide - for example you can hide the vendor's items codes, or hide the Product name. ("Product name" in ME, refers to the name used on Inventory or Recipes. The "Vendor Item name" is how the Vendor displays the name and will always appear on an Order Guide.)
If you want to print just one sheet for the week, you can add as many blank columns as you need for entering orders amounts on different days. Use the "Repeat the Order Column" box for this. (Example: you order produce 4 days a week, so enter the number '4' so you can use the sheet 4 different days.)
You can print in landscape mode or portrait mode - just choose which one you like from the drop down box
Once you make your changes, remember to hit SAVE at the very bottom.

After you save, you will be taken back to the Vendor page where at the top you can select "Download Order Guide" to print it.
Preview:
You can always use the "Preview" button to see what the printed Order Guide will look like with the current selected options.
To change how items are Organized:
Scroll down to the "Organization" section.
Use the dropdown box to select whether the guide is sorted Alphabetically or by Category. When sorting by Category, items will be in alphabetical order within a Category. You can also use a Custom sort of your own, but note that a Custom sort order will be harder to maintain over time as you buy new items from the Vendor and need to return to the page to move new items where you want them.
You can remove items by clicking the red X on the far right (it will only be removed from the guide - it's not removed from ME!)
When using "Custom" sort order, you can drag items up or down using the up/down arrows on the right of each line or by clicking and dragging a row to a different place.
Once you make your changes, remember to his SAVE at the bottom.
Once your order guide is setup, you can learn how to:
Setup online ordering for your vendors
Place orders directly through MarginEdge