If you use QuickBooks Desktop and have been connected previously, but just need to connect again, follow these steps.
Download the QWC File & Copy Password
QuickBooks Web Connector uses a "QWC" file to connect to [me]. To get the QWC file, login to [me] and navigate to Setup > Integrations. In the Accounting section, click on the "Edit Configuration" button by "QuickBooks Desktop (QWC)".

Scroll down the page and just below "Save" you will see a few options.
First, click to "Download QuickBooks Desktop Web connector".
Second, click the "Copy Password" button so it's ready to paste laster on into QB.
Note: it seems that using this Copy Password button is the safest way to copy/paste the password. We've found that when someone just highlights the password and uses a basic ctrl+c command to copy it, errors can result.
After downloading the QWC file, try to move the file to the same folder location your QuickBooks Company File is stored. Read on to learn how to find your company file location.

Open QuickBooks Web Connector
Hopefully at this point your QuickBooks Company File and your QWC file are in the same folder. If they are not, you may come across issues accessing the QWC file from QuickBooks web connector.
There are two main ways to open QuickBooks Web Connector. The simplest/least problematic way is to first open QuickBooks > Open the Company File you want to Sync with > Click on File > App Management > Update Web Services.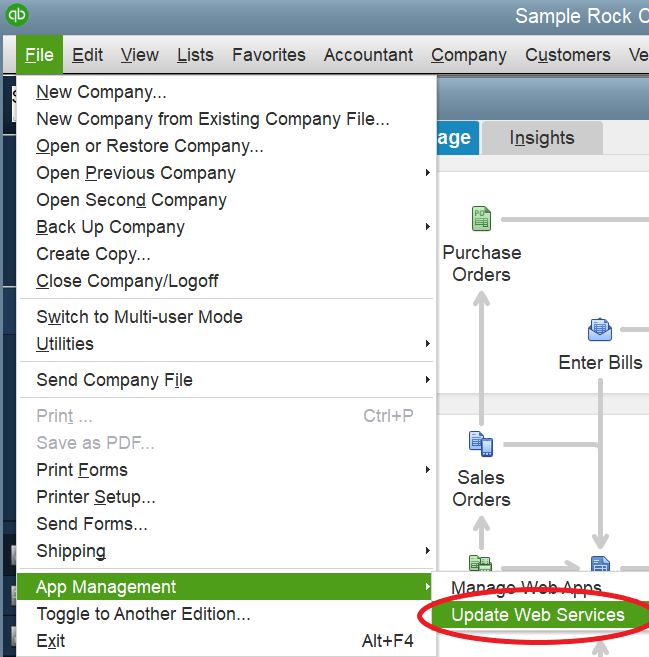 This should open QuickBooks Web Connector directly in the environment where QuickBooks is installed.
The second way is to search for "Web Connector" in your computer's programs. You can do this in your start menu or computers search bar.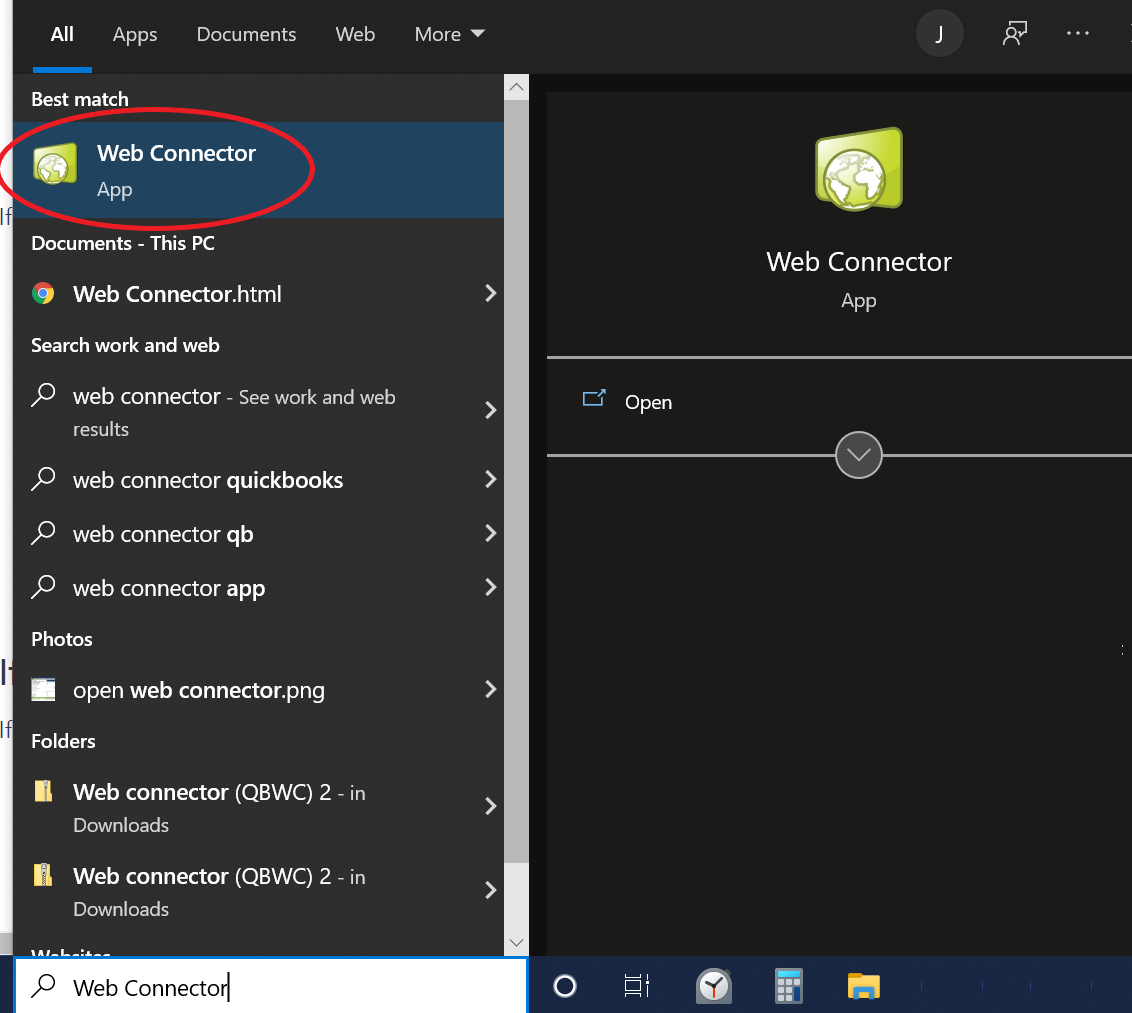 Add [me] to QuickBooks Web Connector
By this time you should have:
QuickBooks Web Connector open and ready to add [me]'s QWC file.

The QWC file downloaded and you know where it's saved (preferably the same place as your company file).

The Admin login credentials for you QuickBooks Company File.

The Username and Password for the dedicated [me] user you created in QuickBooks.

The QuickBooks Web Connector File Password that [me] created when you generated and downloaded your QuickBooks Web Connector File. If you lost this, you can find ithereby clicking on the "Show Password" button.
Inside QuickBooks Web Connector click on "Add an Application" on the bottom right.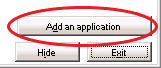 Navigate to your downloaded QWC file. Select the file and click on "Open". In the Authorize New Web Service window click "OK".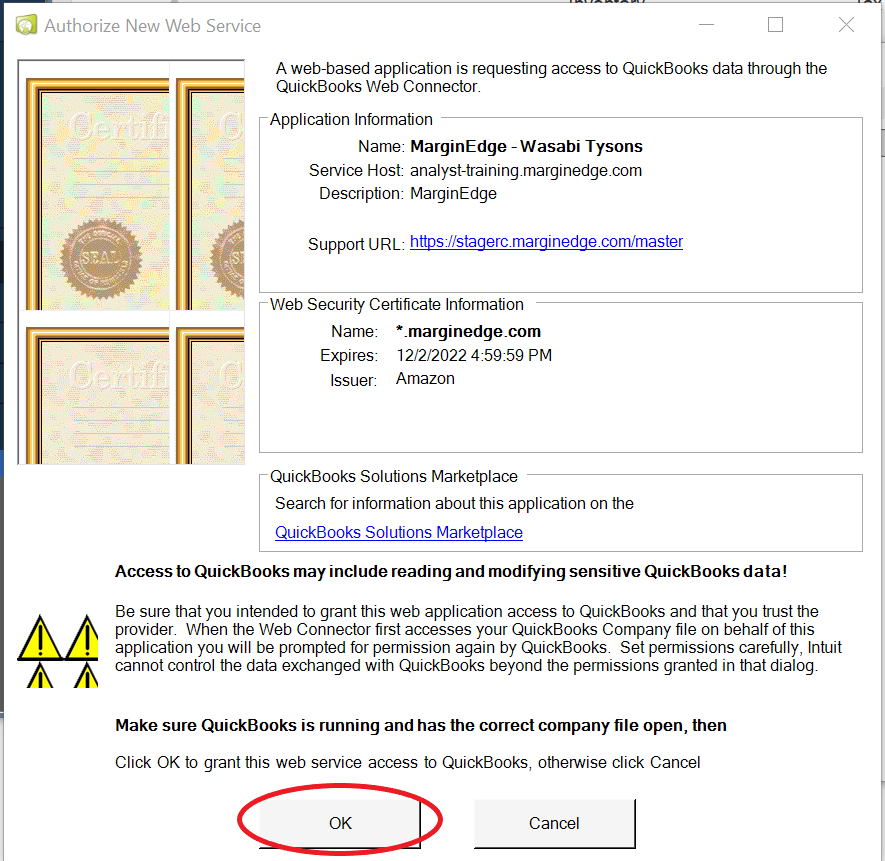 At this point QuickBooks should bring up an "QuickBooks - Application Certificate" Window. This window allows you to authorize the amount of access [me] will have to your company file. Even if you plan on doing all sync's manually, it's best practice to select "Yes, always: allow access even if QuickBooks is not running".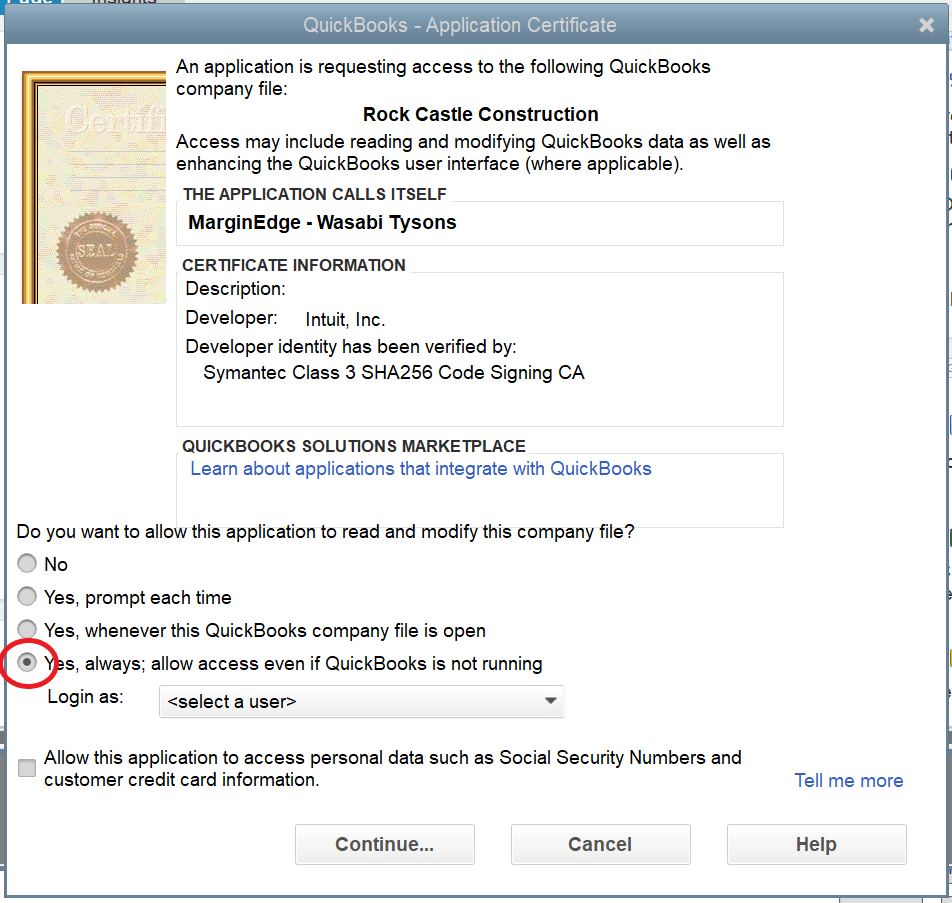 When you select the authorization level you may get a warning depending on what authorization level you choose. If you do get a warning click on "Yes".

If you choose "Yes, always….." select the [me] user you created earlier.

Then click the "Continue" button.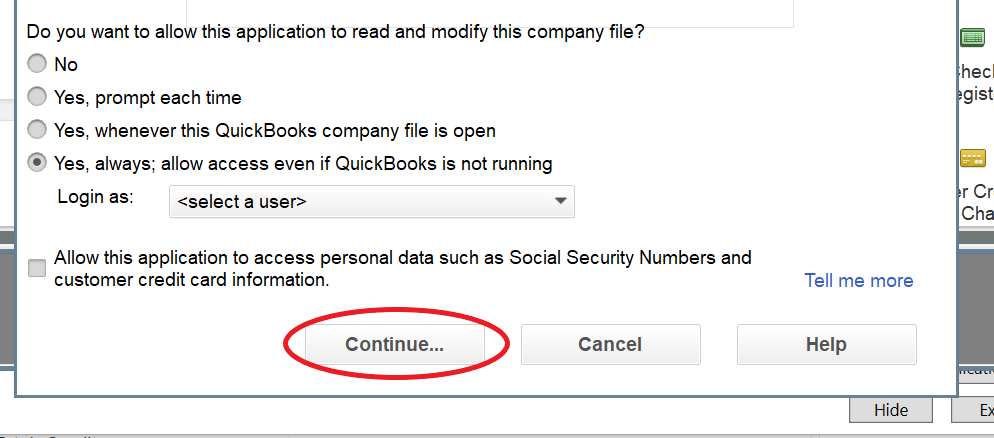 Finally in the Access Confirmation window click the "Done" button.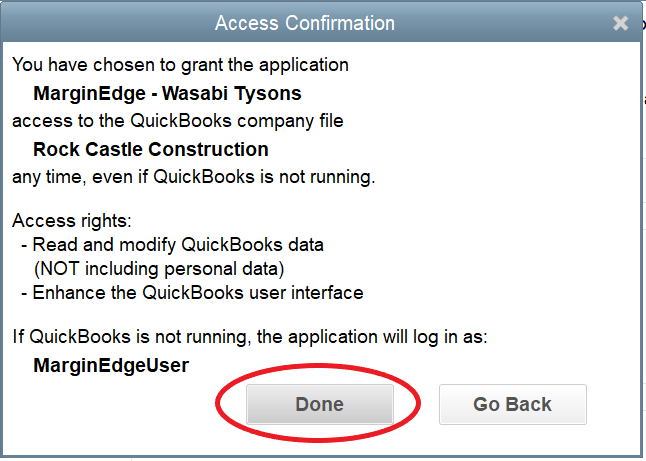 Adding the Password to the Web Connector
At this point QuickBooks Web Connector may go into hiding. Don't worry, you most likely did the steps correctly, you just need to restore the window. You do this by opening Web Connector like you did the first time. If this is the first QWC you've added to QuickBooks Web Connector you'll notice QuickBooks Web Connector looks a little different: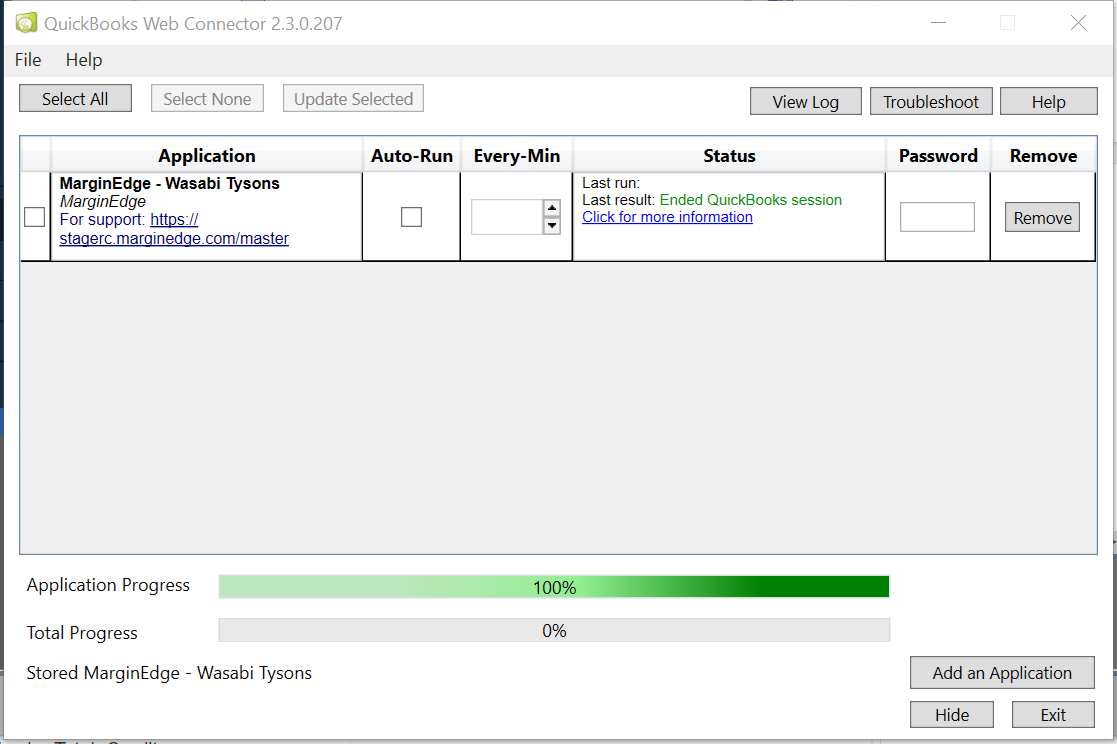 Now add the password. If you didn't already, you can copy this from Setup > Integrations > Edit Configuration and click on the "Copy Password" button.
When you paste it into the web connector, click out of the password box for QuickBooks Connector to save the password. Annoyingly, the password isn't saved automatically just from typing it in but will once you click on something else in the box. A few popups may come up, just hit yes, continue, etc. to any of them.
To confirm, perform a sync/update by clicking on the checkbox in the first column, then click on the "Update Selected" button.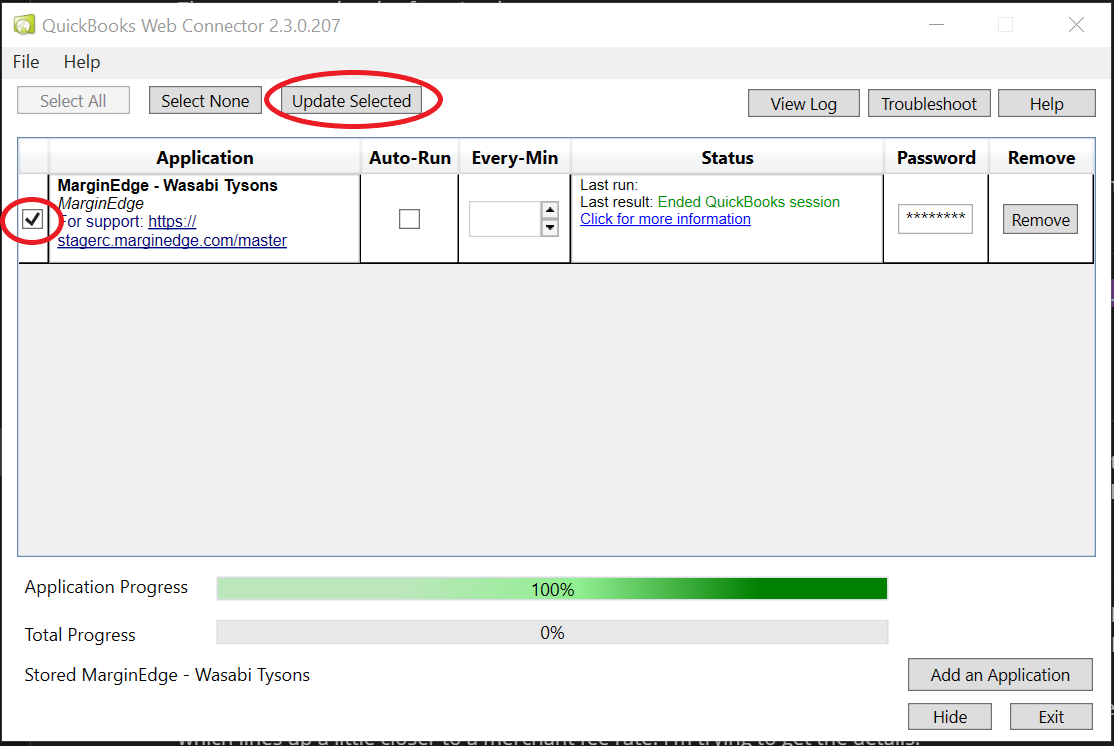 If the sync finished correctly you'll see "OK" in the Status column.