Imperfecto, Washington, DC
Intro from our new Director of Product Management
Hi MarginEdge Community!
I'm Nick, the new Director of Product Management at MarginEdge! I'm starting my second month in this role and wanted to share a little bit about why I'm thrilled to be here.
The People – this company is a confluence of restaurant industry veterans and technologists who show up every day to solve problems and serve our restaurants.
The Product – great people result in a great product. The team has built a great foundation and we're continuing to invest heavily in automating even more of your paperwork so you can focus on great food and great service.
The clients (you!) – we have great people and a great product because we have great clients! Your work ethic, creativity, and passion inspire us.
I remain hopeful for the restaurant industry in the year ahead, after a tough couple of years. As we make our way to the new normal, you can expect me and the entire MarginEdge team to help you meet the moment. Below, you'll find a list of things we've already worked on to improve your use of the software.
– Nick DeLessio, Director of Product Management
---
Ordering: Last Count Column
If you just completed an inventory, you probably have a pretty good idea of what needs to get restocked. Wouldn't it be great if when you went to order from your vendors, you could see directly on your order guide how much of each item you had on hand? Look no further! MarginEdge can now pull in your last inventory counts as a column on your order guides.
The column header will show the date of the inventory to provide some more context as to how up-to-date the count is compared to what you actually have on hand at the time of ordering. You'll still need to manually type counts in the "on-hand" column for the ordering quantity to populate based off of your pars.
To set this new column up on your order guides, click the "Last Count" box on the order guide set up.
Looking to get started ordering through MarginEdge? See this help article for how to get set up!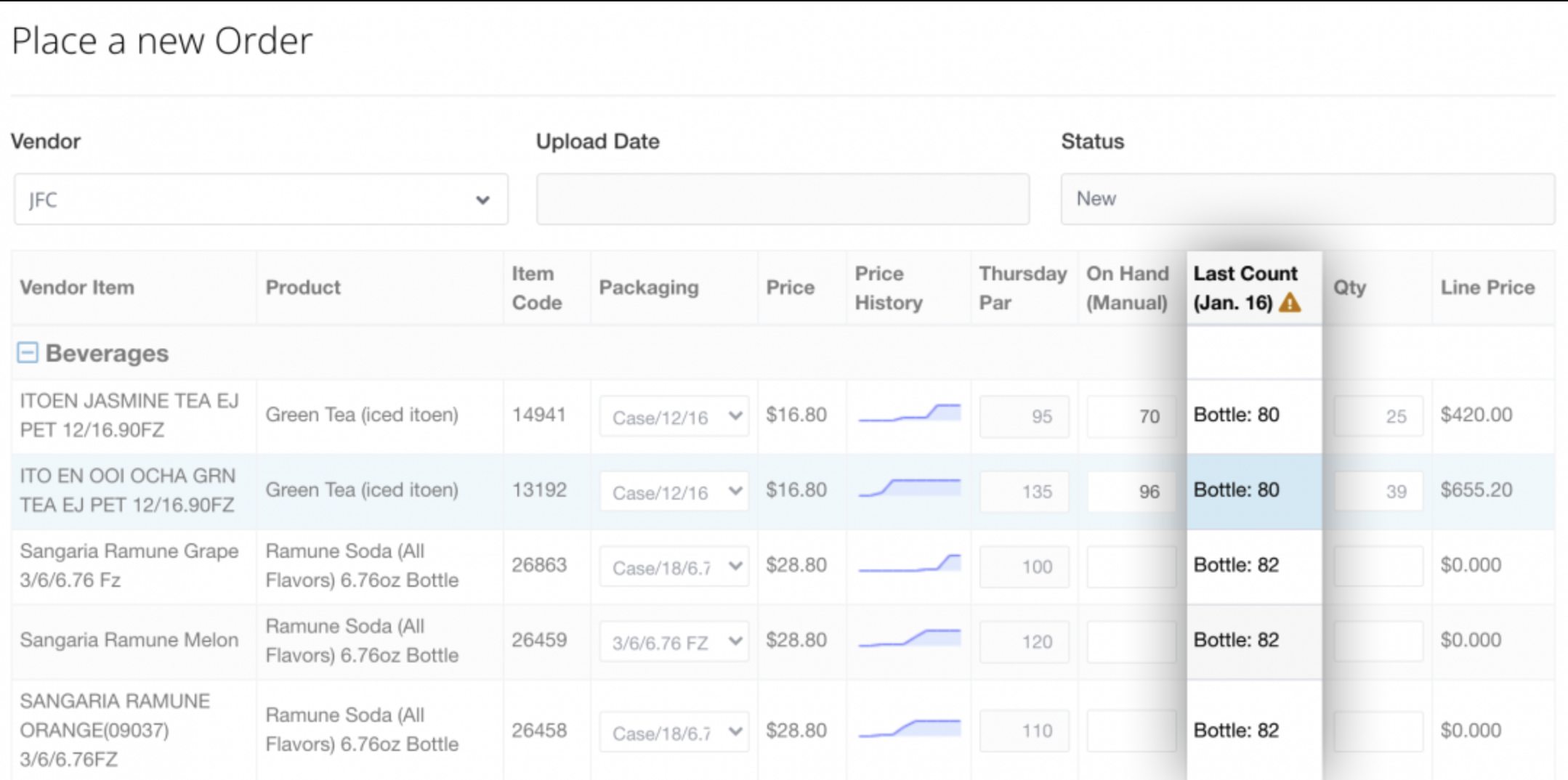 Custom Category Types – Test Drive!
Currently, everything in your restaurant has to fall under one of the following category types: Food, Beer, Wine, Liquor, N-A Beverage, Retail, Labor, or Other. But what if you're a Japanese restaurant and you sell Sake? Or do you want to track disposables as part of your COGS? What if you'd like to combine all alcohol into one category type?
We are working on providing more flexibility on how you analyze your COGS and sales by adding the option to create custom category types in MarginEdge. These new groupings will show up in your other reports like the P&L, Food Usage Report, and Inventory.
If you would like to be one of the first to pilot this feature before it's officially available in the software, we will need to set up your custom category types manually. Please contact help@marginedge.com.
Check out this help article for more information.
Bill Pay
Allowing Non-Bill Pay users to see payment statuses – since sometimes vendors will reach out to managers and chefs about the status of an invoice payment, we have recently given every user in MarginEdge the ability to also see payment statuses. The payment status will be at the bottom of the order you view in MarginEdge. Accountants, this means your coworkers will no longer need to bug you about when a payment was sent 🙂 at least when the bills are sent using MarginEdge Bill Pay!
Multiple Locations, One Bill Payment! While this isn't a new feature, it's one worth a reminder – multi-unit restaurants can pay all of their vendors' invoices, across locations, with a single payment to the vendor. No need to cut payables by location. We can even include multiple vendor account numbers on one check. Please email Christian (christian@marginedge.com) if you'd like to get set up.
Invoice Approval: Credits
You can now choose if you would like credits to go through Invoice Approval. In Invoice Approval Setup, you will now see a new checkbox for credits if you'd like them to go through invoice approval.
New Mobile App
Hopefully, you've heard the news by now – we have a new mobile app replacing our old invoice processing app. We've improved the process of uploading invoices, plus, we're adding more and more mobile functionality!
View Sales data just like you can in the desktop app
Biometrics sign-in – you can log in to your MarginEdge app using fingerprint or face recognition, depending on your device capabilities.
You can now rotate, crop, and manually focus images
View other invoices and orders within the mobile app
Ability to see information of all invoices: vendor, invoice date, invoice number, status, payment and whether it is paid or not, and the total amount of the invoice
Don't have the new "[me] Mobile" App yet? Check us out on the App Stores by clicking the links below or searching "MarginEdge" in the App Store. The new app icon has our new blue logo!
Scheduling Software Integrations
7shifts – We're committed to getting your labor data into MarginEdge, even if you use a scheduling platform rather than a POS to record labor. 7shifts is our first integration with a scheduling software, with more platforms being considered for future integrations!
To pull labor data in from 7shifts on a daily basis, please see our help article on how to get started with the connection.
Automated POS Setup
If you open up a new location on one of the following POS systems, we'll now have a more streamlined process to get it set up! We're continuing to add more POS systems to the list.
Other exciting enhancements
You can now export a CSV of order details, at the invoice level
You can now delete or update invoice images on closed orders
MarginEdge Makeover
New Year, new [me]! You'll be noticing several enhancements to the "look" and "feel" of your MarginEdge app! We're making our way through every aspect of the software (and soon even our website!). If you're interested in giving feedback on how we redesign pages in MarginEdge, please reach out to Jamie at jamie@marginedge.com.