Here's the latest | April 2023
April showers bring… more invoicing powers. That's how the saying goes, right? Well, spring is in full swing here at MarginEdge with lots of product enhancements in bloom.
Introducing:
🌸 A more ✨streamlined✨ invoice approval process
🌸 The ability to manually input, export, pay and schedule category-level invoices on the fly
🌸 More flexible capabilities for our commissary users!
Each of these product releases will help users work more efficiently and with more flexibility - so they can focus more on what they love doing most: running a fantastic business and providing a great experience for guests.
Read on to learn more about each of these shiny, new releases.
Catch you in May! ✌️

Did someone say spring cleaning?
Users now have more control over which invoices need your extra seal of approval and can even revert an invoice from "Closed" back to "Pending" to clean up incorrect data. We've also cleaned up the approval page so you can finally close out all those extra tabs you have open and instead, cross-reference your invoice data - all from the same page. Lastly, we moved the "Approve" button to the top right of your screen so you don't have to scroll 3 miles down to find it anymore.
---

No invoice? No problem!
Now, users can manually enter category-level invoice data. One-time or recurring, invoice-less expenses can now be included in your P&L, exported to your accounting software or paid using MarginEdge Bill Pay.
---

Commiserate no more - more capabilities for commissary users are here!
Commissary users can now clearly track orders from each location in their accounting systems, receive automatically updated pricing for vendor items like forks, napkins and any other cutlery and be able to seamlessly add items into their order guide - all without the manual input.
Show [me] more
---
Speedy vendor paydays
We've made some improvements to our electronic payments that will allow your vendors to be paid twice as fast as before. Say goodbye to the previous 3-4 day waiting period and say hello to more flexibility and more control over cash flows. Plus, you're about to become your vendor's new BFF :).
Important things to know that may impact your current operational workflow:
Electronic payments submitted before 2pm EST will be delivered to the vendor in 2 business days
Electronic payments submitted after 2pm EST will be delivered to the vendor in 3 business days
There are no changes to deadlines for check payments
Show [me] more
---

Easily attach a picture to an "Image Pending" invoice status - straight from your phone!
You can now use your phone to easily capture and upload an image to an invoice with an "Image Pending" status - making it easier to reconcile any differences between what your vendor sent vs. what you actually received.
Note: this is only applicable to EDI integrations

Exporting your invoices to accounting can help both kitchen and finance staff work in sync.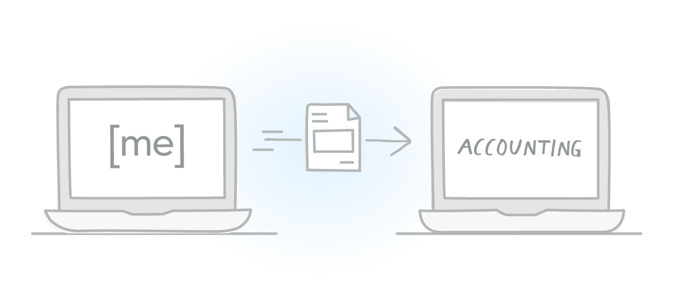 Exporting your invoices to accounting will enable both the kitchen and finance team to work off of the same numbers, remove the need for any dual-entry into your accounting system and prevent any surprises at the end of the month. Plus, it means no more nastygrams from your accountant

What's new with [me]
Our name got put on our Arlington, VA office building!
We just had our company-wide All-Hands!
Our Partner Engagement Specialist, Aubree, just got a new cat - meet Oscar!