QuickBooks Desktop syncs with MarginEdge via a web connector downloaded when you set up your accounting integration. Each time you run your web connector anything cued up to export from MarginEdge will be pulled into your accounting system. MarginEdge will receive an updated version of your chart of accounts and vendor list from QuickBooks Desktop.
The first thing to consider when exporting invoices, sales entries or an inventory adjustment from MarginEdge is how your accounting system integration is configured. To find these settings, go to Setup > Integrations and select your accounting system.

Here you will see drop-downs that specify how MarginEdge syncs with your accounting system. These settings can be set individually for orders (invoices), sales entries (daily sales journals) and inventory entries (inventory adjustments).

To adjust your settings, click on the dropdown menu and select your preferred sync option.
The options are slightly different since exporting requires running your web connector:
All Available

– As soon as we have finished processing an invoice, pulled sales entries from your POS system, paid a vendor with Bill Pay or you have an inventory adjustment to post to accounting, these transactions will automatically be put in pending status. They can then be exported by running your web connector.
Only Manually Selected –

When we finish processing invoices, have received a balanced sales entry or you have an inventory adjustment to post, these transactions will appear on your export page where you can manually select and export them to your accounting system. All data will immediately populate in your MarginEdge reports, and invoices can be paid with Bill Pay; however, only those transactions which have been manually selected to send in MarginEdge will be exported when you run your web connector.

Pause Temporarily –

This option will prevent any data from exporting to your accounting system until you select a different option.
More details about exporting and the statuses involved can be found here:
Overview: Exporting to Your Accounting System
Running your web connector
In order to sync MarginEdge and QuickBooks Desktop you need to run your web connector every time. We recommend adjusting your settings to "Automatic" once you are comfortable to make this process a little smoother for you.
To do this, select File > Update Web Services.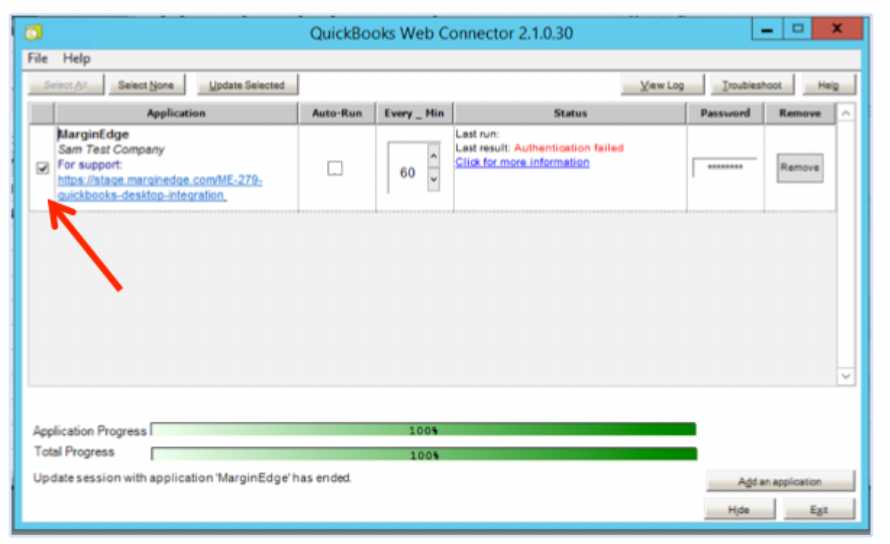 Make sure the "Auto-Run" checkbox is not checked.
If you have more than one restaurant connected to MarginEdge you will need to make sure that you are signed into the Company File for the restaurant you are syncing. You can only run the web connector for one restaurant at a time (you should never update selected with more than one check box checked.

If using classes, you can still only have the box checked for one class at a time.
Once you've selected the restaurant's checkbox, click Update Selected at the top. This will run the connection, looking for anything to update between the two systems. The process is quick, and you should see a green bar at bottom that shows 100% for Application and Total Progress.