You will need to complete work in MarginEdge and PriSM:
Note: You must have access to the Storenet site that Microworks offers (example: storenet6.microworks.com) in order to integrate MarginEdge and PriSM.
*Microworks does charge a monthly fee to store owners to use the Storenet module.
LOG INTO MarginEdge
1. Login to MarginEdge. If you have access to multiple locations then check that you are in the correct location you want to connect.
2. Go to Setup > Point of Sale, click on "Connect to Point of Sale" and select "PriSM" from the dropdown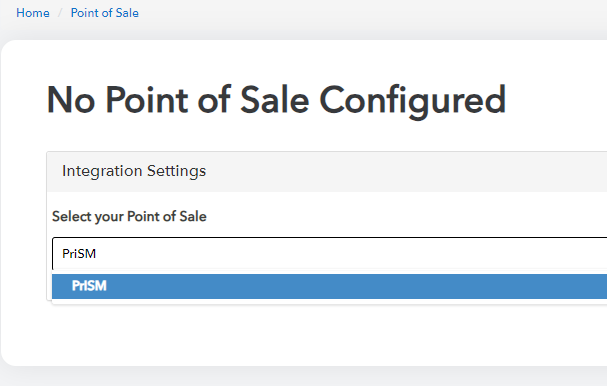 3. For Domain please enter the first part of the URL you use to login to Storenet.
Example: If your URL is storenet5.microworks.com then enter storenet5 into the Domain field.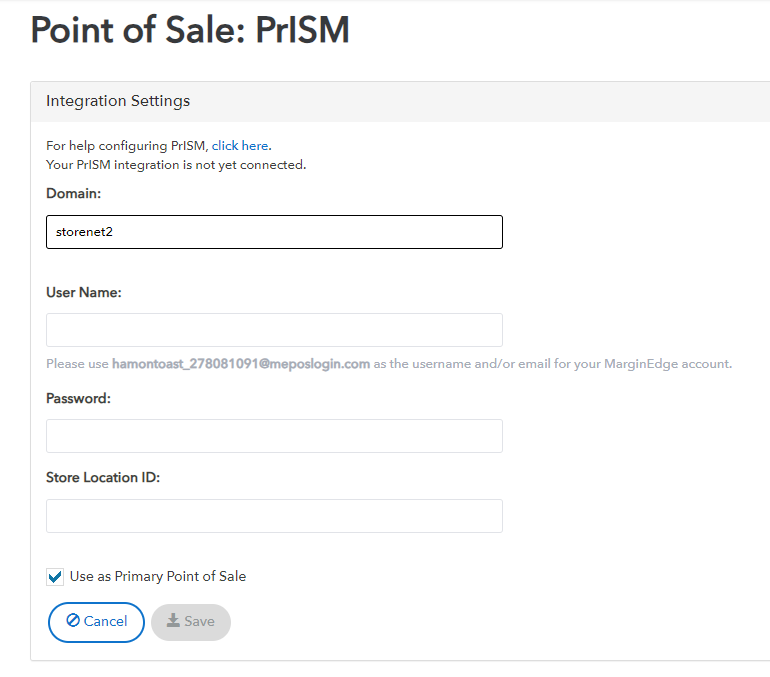 4. While you are here, highlight and copy your unique email address as shown in the red box below. You will find it under the "User Name". DO NOT try to use the email address you see here!

LOG INTO PriSM
1. Open a new window/browser and log into your Prism site using your own credentials.
2. Create an account for MarginEdge using the unique MarginEdge email you copied from underneath the User Name field in the MarginEdge setup screen. (See step #4 above.)
Important:
Ensure the account has full access to reports for your restaurant.

If you are prompted to set up a password, you have the option of setting your own. Save this to enter into the MarginEdge settings.

If you do not set a password, don't sweat it. Our integrations team will generate one for you.
BACK TO MarginEdge
1. Put in the same copied MarginEdge email address into the User Name field.
2. If you created a password in PriSM, please enter this under Password.
If you did not create a password, simply enter any temporary password in the field and our integrations team will generate a password once the account is set up.
3. Enter your "Store Location ID" if you know this. But you may not know this, as it's not an obvious or commonly used ID. So, if you don't know your Store Location ID, just type in your location name in this field and we'll replace it with the ID from PriSM.
4. Click Save! (Don't forget this!)
5. If you are currently in onboarding and working with an implementation manger, please email onboarding@marginedge.com to confirm you were able to complete these steps. If you are not currently in onboarding, please email salesintegrations@marginedge.com.
You're finished! Our team will take care of the rest.