You have the option to see your current sales data as compared to your historical sales data (assuming we were able to pull in your historical data). You can compare your current sales to last week's sales and/or a prior year's sales. Adjusting these settings will apply to how you see the data in all units that you have access to. However, these are adjusted only for your personal user name and only impact your personal view. Each user can set their own view.
You can choose up to two of these options:
Last week's data
Last year's data
The data from two years ago.
To see information about your Benchmark Settings, as compared to others in your region, see this article: Benchmark Sales Reporting
To change your Sales Comparison View Setting click your name on the top right corner of the screen and select "Settings: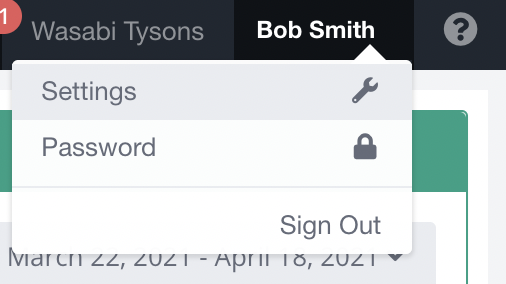 In this menu you'll see "Which comparisons would you like to see?". There should be 2 selected already and a third greyed out.
You'll only be able to select two options at a time, so if you want to see one of the options not selected, unselect the option you don't want and the other option will become available to be checked.
Once done scroll to the bottom and click SAVE!