You buy new products all the time.   New ingredients, a new beer or liquor, a new wine.    Having to add them all to count sheets one by one can be a pain.   So, we've created a way to have all new products automatically put on one or more count sheets for you.
Choosing which new products to add to the count sheet 
At the top of the Edit Count Sheet screen, you can specify that new products of certain types be added to that count sheet automatically.    The choices are made with the five checkboxes as shown below: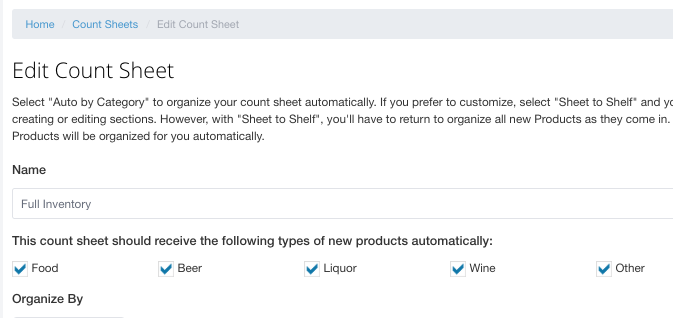 If you have a single count sheet for your full inventory, you will likely check each box - every time you buy a new product - one that would typically be inventoried - it will be put on this count sheet.   What does it mean to check "Other"?   It doesn't mean everything you buy will end up on the Inventory.   It just means when something in an "other" category is flagged to be inventoried, we'll automatically put it on this count sheet.
NOTE:   On the main Count Sheets page (Inventory > Count Sheets), you will see in the "Receive New Products" columns which indicates when products are selected to be placed on a count sheet by default.   In the example below, you'll see that the "Full Inventory" count sheet is set to receive all new Food, Beer, Liquor, Wine, and Other products that are to be inventoried.
 Where do the new products go on the count sheet?
It depends how you organize your count sheet:
If your count sheet is in auto-mode ("Auto by Category"), MarginEdge knows where to put new products:  new products will be automatically placed in the section corresponding with its Category.   If you have a Dairy Category, when you buy a new type of butter, it will be placed in alphabetical order in the Dairy section.   Buy a new keg?   It will be put in the section based on the Category you use for draft beer.
If your count sheet is in "Sheet to Shelf" mode, then MarginEdge doesn't know where to put new products.  So, they will all be placed in a section called "New Products".   You can move them from there to any section(s) of your choosing.
For more information about organizing your sheets, visit How do I setup my count sheets?
FAQs:
1.  Can I have new products go to more than one sheet?    
Answer:   While it's not common, you certainly can.   If you want all new "Food" products to go to two different count sheets, that's no problem.   Just check the "Food" box at the top of both count sheets.
2.  What happens if I don't select a count sheet to receive new products of one or more types?
Answer:   If no count sheet has "Food" selected (or any other category), then new products of that type will show up on the Inventory > Products screen.   On this page, you will see all products that have been marked 'yes, this should be inventoried' but have not yet been placed on a count sheet.    From this page, you can a) select what count sheet(s) the product belongs on (and in the case of a "sheet-to-shelf" inventory, specify which section as well), or b) elect to not count the product at all.  
For more on using the Inventory>Products page, visit How do I use the Inventory Products page?