This article is for you if:
- You have recently started using MarginEdge and now need to connect to QuickBooks desktop.
- You are using QuickBooks Desktop only. (Here are instructions if you are using QuickBooks Online.)
- You have the "Admin" login credentials for your QuickBooks company file. You will need Admin rights to setup the connection. Once it's setup, though, you do not need Admin rights to pull invoices over from ME.
1. OK, first head over to MarginEdge, and click on Setup and then Integrations on the main menu.
2. Under the word "Accounting", search Quickbooks and select from the drop down menu "QuickBooks Desktop (QWC)".
3. You'll then see this pop-up - click on the button for "Generate QuickBooks Desktop connector". This will generate a password that you will need to write down for use in a minute.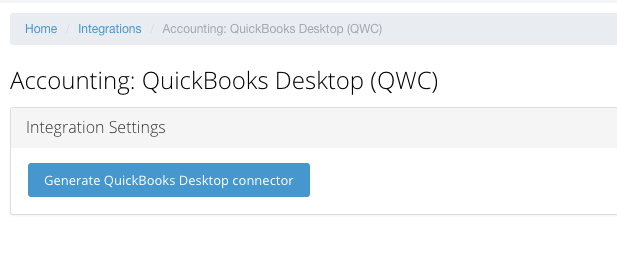 4. After you write down your password (and click "Done" on the little box with the password), you will see the page shown below. Click on the box circled below that reads "Download QuickBooks Web Connector File". You are downloading the small 'connector' file QuickBooks will need to connect to ME. Be sure to note where you are saving the file because you'll need to find it in a minute while in QuickBooks: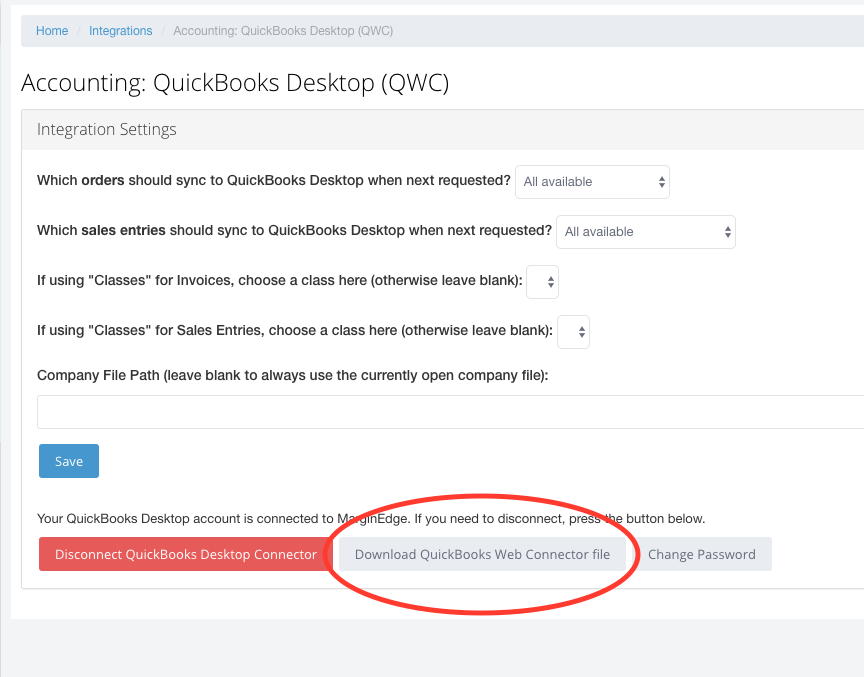 5. OK, that's all for now in the MarginEdge software. Now, open the QuickBooks file for the company location you are going to connect. IMPORTANT: You need to login with Administrator credentials. Once you setup the ME to QuickBooks connection, you will not need to login as Admin to run it day to day.
6. In QuickBooks, go to File > Update Web Services. (This might be under File > App Management in some versions.) This will open the QuickBooks Web Connector screen shown here: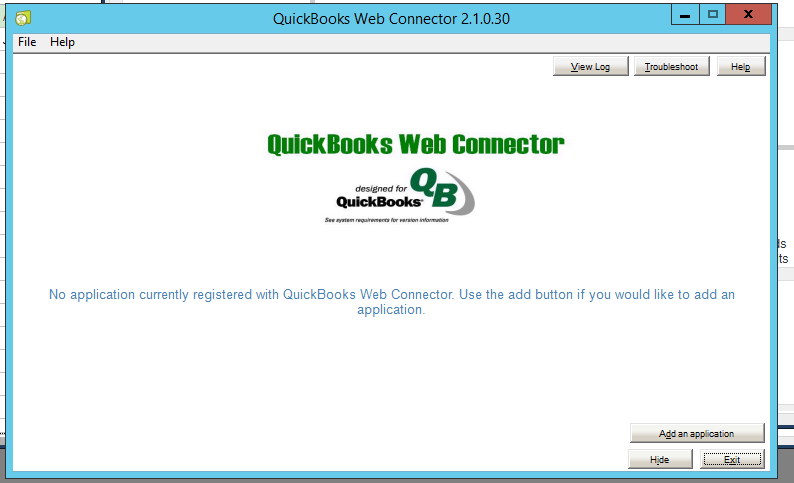 7. Click the button to "Add an Application". You will then be asked to find and select a connector file (a .QWC file). This is the file you just saved a few minutes ago from the MarginEdge. Find that file and click the "Open" button.
8. You will be shown the "Authorize New Web Service" screen (shown below). This gives the ME application the approval to connect to QuickBooks. Click "OK".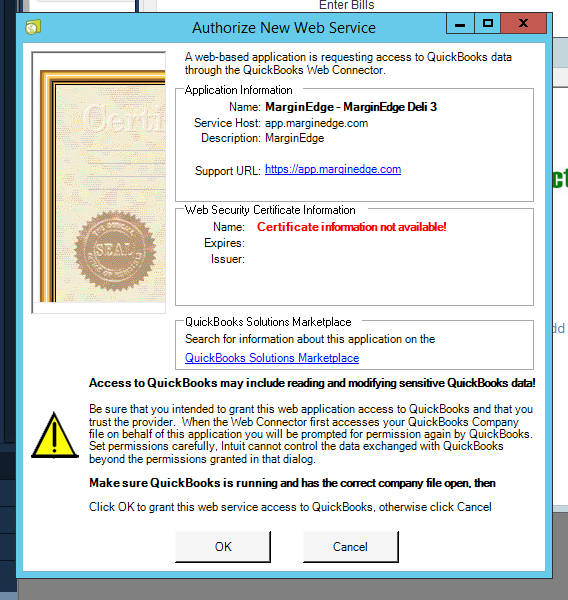 9. Next you will see the Application Certificate screen. This asks about the permission level for ME to send information into QuickBooks. Select the last option - "Yes, always, allow access even if QuickBooks is not running." Click "Continue". (See below).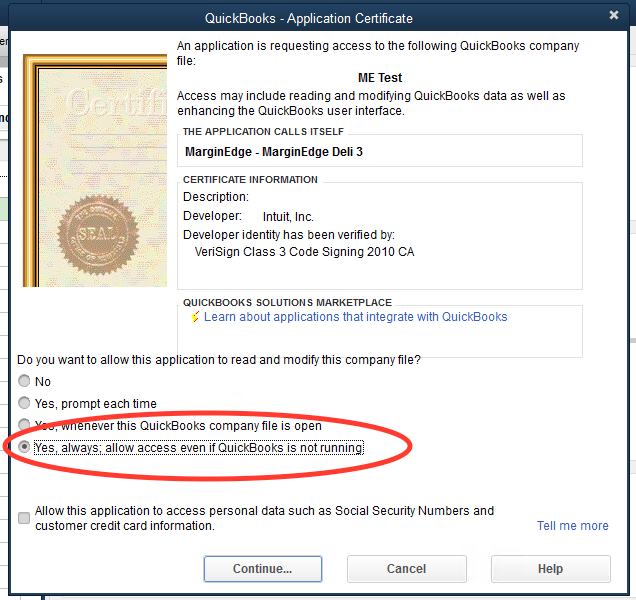 10. You'll then see the below showing that the new Application - MarginEdge - is connected to QuickBooks. Before you can 'run' it, you need to find the crazy password you wrote down in step 3 (the password shown by ME when you started this process.) Enter the password, and then move your mouse away from the password field. QuickBooks will popup a message and ask "Do you want to save this password?". Click "YES".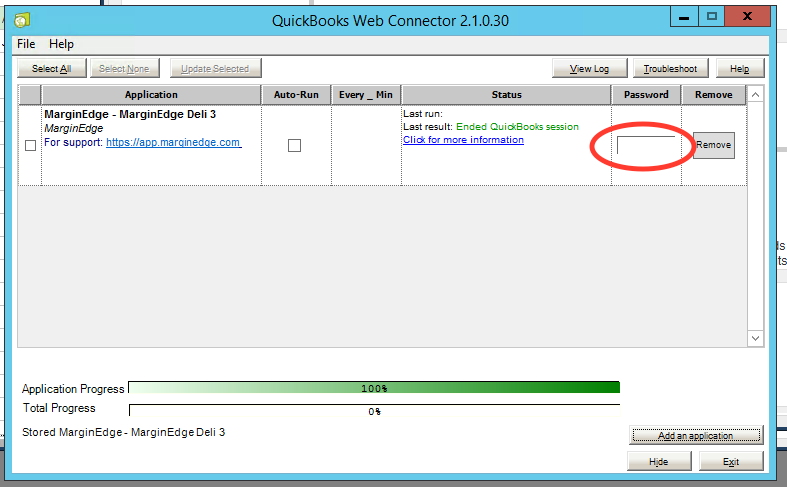 That's it, you've connected MarginEdge to QuickBooks! Every time you run (or "Update") this connector, it will check to see if any information has to be sent from one system to the other. You should now run the Update once and make sure it works ok. (This first time running, it will send the Vendor List and Accounts Lists to MarginEdge for setup to be finished later.)
Click the small checkbox on the left side of the screen as shown with the arrow: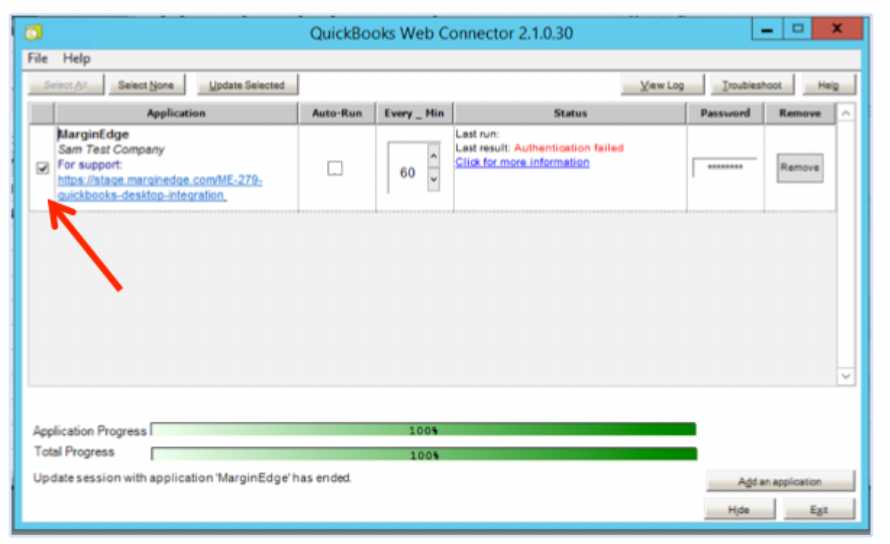 Then, click "Update Selected" at the top. This will run the connection, looking for anything to update between the two systems. It should run quickly, and you should see a green bar at bottom that shows 100% for Application and Total Progress.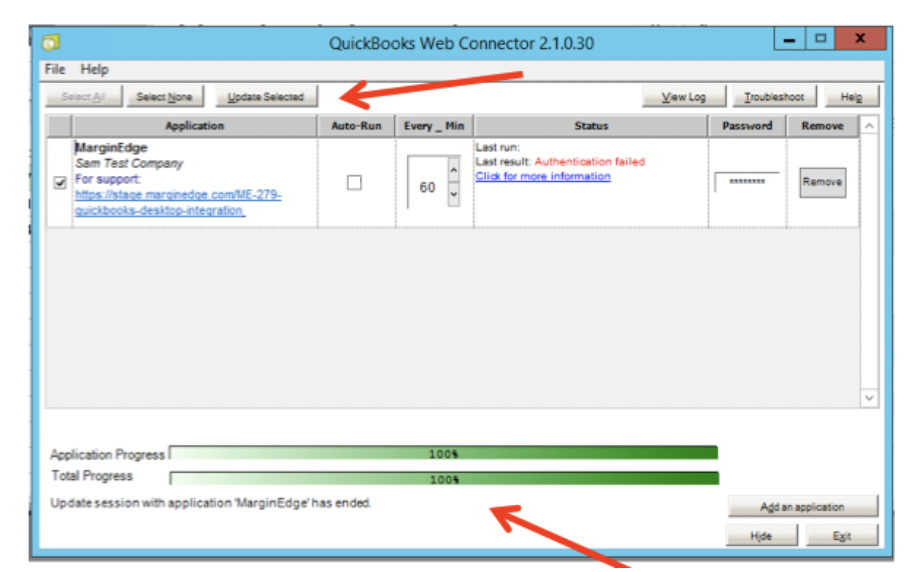 Congratulations! You've now established the connection between MarginEdge and QuickBooks. The next step is to go back to MarginEdge to do Vendor Mapping and Category Mapping. This is how the vendor names and categories in ME are connected to the Vendors and Accounts in QuickBooks.
Note: If you have multiple units, you will need to download the installer for each location you have in MarginEdge.